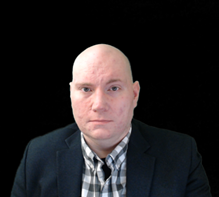 The March Faculty spotlight has fallen on one of our more recently hired faculty members, Daniel Cox. Cox is a visiting instructor in the Games and Interactive Media program, who is most dedicated to his craft.
Before coming to the University of Central Florida (UCF), Cox lived in Virginia for most of his life, where he received a bachelor of science degree in computer science in 2014 and a master's degree in rhetoric and composition in 2017 from Old Dominion University.
Cox moved to Florida to attend UCF, where he now instructs full-time and is currently working toward his Ph.D. in the Texts and Technology program with an emphasis in Digital Media. With qualifying exams approaching, he will start working on his dissertation soon.
"I initially had a very strong interest in the connections between machines when I was younger," said Cox. "But what I quickly realized was what I was actually interested in was how people solve problems with computers. I was more interested in the way design influences users."
With about a decade's worth of experience in creating educational materials, his research focuses on code pedagogy, which is how people learn to program and use those skills to solve tasks, and he has a strong interest in narrative games as well.
"I'm interested in code pedagogy and approaching it through a rhetorical lens," said Cox. "Rhetoric helps us examine how we influence each other. What happens when there is cognitive dissonance between your values and the software you are using? How does the software change how you think or work when using it? How is the software influencing you?"
Cox studies textbooks and other educational resources, comparing their approaches to topics he also teaches, such as the game engine Unity.
In his free time, he contributes to open-source code and documentation projects connected to the hypertext authoring tool, Twine.
He has volunteered with the Interactive Fiction Technology Foundation (IFTF) for more than three years now, as part of the Twine Committee, and recently stepped down from a managing editor role on the Twine Cookbook, a project he helped create to collect code examples from the larger Twine community.
Cox has also helped organize the IFTF's conference on narrative games, NarraScope, for the last two years.
While there will not be a conference this year due to COVID-19, there are hopes that it will be brought back in 2022.
"Something I care deeply about is teaching people to critically examine the computer systems they use," said Cox. "This is why the field of digital humanities is so needed. It helps us better understand ourselves and how computers shape our thinking when using them."
Click here to learn more about the Nicholson School's Games and Interactive Media program that Cox is a part of.
Published March 1, 2021. Written by Iulia Popescu.
If you have any news, accomplishments or highlights about your work or life, please be sure to share them with us, by emailing us at nicholsonews@ucf.edu.