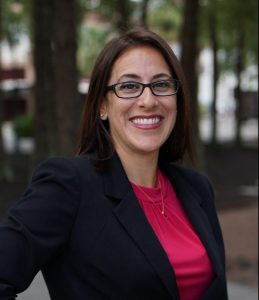 The May Faculty Spotlight has shined its light on Jamie Vega, who has been working in higher education as both an educator and a leader for many years.
Currently, she is an instructor in the Nicholson School's Communication program, and her passion for teaching and sharing knowledge with others is contagious.
As the first person in her immediate family to obtain a bachelor's degree, she is a two-time UCF alumnus, graduating in 2004 with a bachelor's in Ad/PR as well as in psychology. She then attained her master's degree in communication from the Nicholson School in 2006.
While she was a graduate teaching assistant in her master's program, she had the chance to teach for the very first time.
"I wasn't sure what I wanted to do with my degree until the moment I taught my first class," said Vega. "I am very passionate about the importance of effective communication, so the chance to share that with others through teaching felt very natural for me."
Vega's favorite topics to teach now are compliance gaining, persuasive communication, public speaking and interpersonal communication.
Vega's passion and drive for communication has only grown stronger. She is now currently a first-year doctoral student in NSCM's Strategic Communication program.
"I had all but given up on the idea of ever getting a terminal degree until NSCM launched the Strategic Communication program," said Vega.
Since she received her bachelors' and master's degrees at UCF, being accepted into the Ph.D. in Strategic Communication made everything come full circle.
Vega has also stayed connected to UCF through the Alumni Association, where she currently serves as the chair of the NSCM Alumni Chapter Board for the third year now. She has been involved with the board since 2005, as she had desired to serve her alma mater and help others find their paths.
She is especially proud of the work they have done with the Alumni Mentorship Program.
"We've helped build up the Alumni Mentorship Program that began back in around 2014-2015 and have had more than 100 alumni mentor/NSCM student mentee pairs for the past two years," said Vega. "This program is our biggest accomplishment as a board and has had a strong foundation that should help support its growth each year."
On top of her work with the Alumni Association, she also has a hand in running the Student Ambassador program alongside visiting instructor Jorri Bright.
"The Student Ambassador program provides an opportunity for students to receive guidance from other students," said visiting instructor Bright, who runs the program with Vega. "We understand that when you have the availability of a peer, then you're more apt to speak to those students and ask for advice. Peer support is essential to the success of our students."
Ambassadors represent the university to the highest degree and participate in campus tours, student activities and community engagement events in collaboration with UCF faculty and staff at the new campus in downtown Orlando.
The program first began with the Communication program area's Student Success Committee a few years ago, which was chaired by NSCM lecturer Adam Parrish, Ph.D.
The search for the next group of ambassadors is under way, as the Student Ambassador Application submission was extended to May 7, 2021. Those interested should fill out the form and send the completed application to Bright at jorri.bright@ucf.edu.
"Bright and I served on that committee along with a handful of our other gifted colleagues," said Vega. "Once NSCM became part of the College of Sciences, some committees were merged and it was apparent that the Student Ambassador program needed its own identity. Our inaugural cohort worked really hard this year to create a foundation for future ambassadors. We are excited to see where this program goes in the future as a result of their work!"
In her spare time, Vega enjoys outdoor activities with her family and trying to keep up with her 5-year-old daughter.
Her main focus remains on balancing her position as an instructor, her role as a student working on her Ph.D. and her family life as a wife and mother to her five-year-old daughter, Amelia, who starts kindergarten in August.
Given everything that has been going on in the world for the past year, she is grateful to have her health as well as the health of her family and looks forward to all that the future has in store for her.
Published May 1, 2021. Written by Iulia Popescu.
If you have any news, accomplishments or highlights about your work or life, please be sure to share them with us, by emailing us at nicholsonews@ucf.edu.