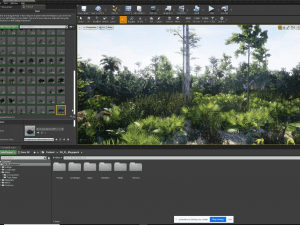 ORLANDO, FL (November 3, 2021) – Software developers now have new tools that can make their virtual worlds bloom. Thanks to The Harrington Lab at the University of Central Florida, one of the most ecologically diverse and biologically accurate virtual nature environments game art asset and material packages for foliage now available in the Unreal Engine Marketplace.
Initially released for free on Sept. 29, more than 25,000 packages have been claimed (11 separate natural communities, 70 plants, 10 foliage brushes and 248 unique meshes) that naturally occur from Maine to Florida and the Mississippi River to the Atlantic Ocean.
The UCF package for the "Southeastern US Plants and Ecosystems" © University of Central Florida Research Foundation 2021, includes ten foliage "brushes," one for each natural community found in the Southeastern US. The brushes allow the user to paint several accurately spaced-out plants at once, in the vicinity of the plants they would be located near in nature. It saves time by creating a base layer for the artist, who can simulate reality and add other species and high polygon models where needed.
The content pack includes plant models developed by UCF Assistant Professor Maria C.R. Harrington, Ph.D. and her team of students, that are biologically accurate and have been vetted by the UCF Arboretum's team of botanists, biologists and ecologists. They are photorealistic and low polygon, ideal for large open worlds, augmented reality (AR) and virtual reality (VR) applications.
"The digital media I am delivering is innovative as it is the only package that has been vetted for accuracy by botanists, biologists and ecologists," says Harrington. "There are 10 ecosystems ready to use as pre-loaded 'brushes' for accuracy, that will make the game level construction process very simple, efficient and accurate."
The 10 foliage brushes are visualizations of Geographic Information Systems (GIS) data for accurate plant inventory and density simulations. They represent: Basin Swamp, Baygall, Depression Marsh, Dome Swamp, Mesic Flatwoods, Scrub, Scrubby Flatwoods, Waterbody, Wet Flatwoods and Xeric Hammock.
Led by Harrington's Expert-Learner-User eXperience (ELUX) design process, this cutting-edge pack is backed by years' worth of research and removes guesswork while increasing information fidelity, photorealism and immersion – all important for emotional and cognitive engagement. UCF received an Epic MegaGrant in 2020, which was used to partially fund the project.
Harrington is the director of The Harrington Lab at UCF and teaches in the undergraduate Games and Interactive Media Program at UCF's Nicholson School of Communication and Media. Digital Media undergraduate students were involved in the initial 2016-2018 exploration research phase in learning activities and after graduation started working at companies such as Oculus, Leidos, Design Interactive Inc, 301 Interactive, Epic, as well as with the Carnegie Museum of Natural History.
Images and other ancillaries are available upon request. NSCM: https://communication.ucf.edu/
Published November 3, 2021 by Iulia Popescu.
If you have any news, accomplishments or highlights about your work or life, please be sure to share them with us, by emailing us at nicholsonews@ucf.edu.