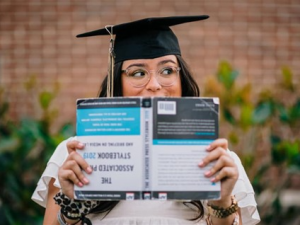 Journalism alumna Daniella Medina graduated college and worked her way into a full-time position with international news force USA TODAY in a matter of months – during a pandemic.
The Dow Jones News Fund (DJNF) allows college students interested in journalism to apply every fall, hoping for a chance at a paid internship with some of the nation's leading news organizations.
"The premise of Dow Jones has always been that students should be given the opportunity to work in news-media organizations in the field, not just in Dow Jones, and have experiences of the real-life work," said Linda Shockley, the managing director of Dow Jones News Fund.
In nearly six decades, DJNF has prepared thousands of journalists who have advanced to prestigious careers at respected American media and are pioneering the latest in digital media.
Medina was notified of the internship program through UCF journalism senior instructor Rick Brunson, who worked as the organization's associate director from 2005 to 2008. Since then, Brunson has been a key connection between the DJNF program and the Nicholson School of Communication and Media.
"I applied for two reasons: I was, at the time, about to graduate college and wanted to get my name out there for potential jobs, and I also needed to find out who I was as a journalist," Medina said. "UCF helped me flourish into the journalist I am today, but DJNF and the USA TODAY Network are helping mold me into the journalist I want to be in the future."
The Dow Jones internship programs are nationally recognized for selecting the best and brightest journalism students in the country, as well as preparing them for careers in reporting and editing when they graduate.
In 2019, four UCF students, Abigail Brashear, Layla Ferris, Ashley Garrett and Paola Peralta, were selected for the nationally competitive and prominent DJNF internship program among 75 other recipients.
In 2018, students Cristobal Reyes-Rios, Kyle Swenson, Isabelle D'Antonio and Dominique Smith took on this internship as well.
This year, Medina was offered a digital media internship position with the astounding USA TODAY Network digital optimization team based in Nashville, Tennessee. She was notified of her acceptance while sitting in the newsroom in the Nicholson school.
The internship lasted for 12 weeks, and the training was remote this year due to the COVID-19 pandemic.
The groups met on Zoom every day for almost eight hours a day. They had nonstop lectures, meetings and seminars throughout the week with notable reporters, photographers, leaders and editors. They learned valuable skills from writing the best headlines to editing on Adobe Premiere and After Effects.
While the training was going on, the digital media interns needed to create a multimedia project to launch at the end of the training as well. Medina was the managing editor for the project.
"We chose our topic — K-12 education and the COVID-19 pandemic," Medina said. "The project is called 'Behind the Screen: Coronavirus pandemic derails K-12 education' and it is full of amazing stories, photos and videos from amazing digital journalists based everywhere in the U.S. from Hawaii to Missouri and Virginia."
The USA TODAY Network recently expanded, now working with more than 70 newsrooms across the country, such as the Tallahassee Democrat, York Daily Record, the Californian and the Daily Advertiser. As an intern, Medina helped cover stories ranging from Tiger King, Florida State football and Trump rallies to COVID-19, hurricanes and wildfires.
Throughout her internship, she kept a record of all the work she's done on her portfolio website.
Although Medina's internship came to an end on August 14, the team at USA TODAY didn't want to let her go – so they decided to hire her full time instead.
"I am so grateful for the experience I had as an intern and am so thankful I was able to continue my journey with the Network," said Medina. "Some of my favorite work to date comes out of my full-time position. It has been such a rewarding experience, and I realized my true potential as a digital producer. My position is remote at the moment, but I can't wait for all of us to meet up in person for the first time and take the world by storm!"
The stories Medina has worked on can be found here.
Published October 1, 2020. Written by Iulia Popescu.
If you have any news, accomplishments or highlights about your work or life, please be sure to share them with us, by emailing us at nicholsonews@ucf.edu.