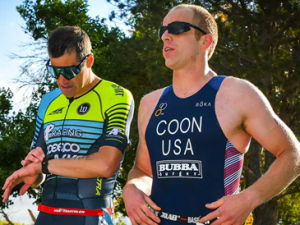 Kyle Coon '13, pictured right, will be representing Team USA as well as the Nicholson School at the Paralympics, occurring on August 24 – September 5.
Coon will appear in his first Paralympics as part of the 17-member Paratriathlon team that will try and match or exceed Team USA's four medals in 2016 when the event debuted at the summer games.
Coon was profiled in Pegasus magazine in the Summer 2019 issue and included in a Nicholson News article.
At 10 months old, he was diagnosed with bilateral sporadic retinoblastoma, the most common form of eye cancer for children. By the time he turned 7, both of his eyes had been surgically removed.
Shortly after the procedure, his father introduced him to Erik Weihenmayer, a blind extreme athlete. It was the first time Coon met an adult who was blind, providing him an idea of the possibilities that lay ahead. Weihenmayer encouraged Coon to envision life without limits and suggested he try rock climbing.
Coon did that and more — from downhill skiing to hiking the Ancascocha Trail to Machu Picchu to summiting Mt. Kilimanjaro. After graduating from UCF, Coon became an endurance athlete, competing in numerous marathons and triathlons.
He is a two-time World Triathlon Para Series medalist and became a resident at the Olympic Training Center in Colorado Springs, Colorado, in January 2019 in pursuit of his goal of qualifying for Tokyo.
Coon competes alongside his guide, Andy Potts, a 2004 U.S. Olympian, 2007 Pan American Games gold medalist and decorated IRONMAN.
The paratriathlon competition in Tokyo consists of a 750-meter swim, 20-kilometer bike and 5-kilometer run. The competition takes place August 28–29.
Story was originally written by Jenna Marina Lee and published on UCF Today.
Edited by Iulia Popescu and published August 2, 2021, on Nicholson News.
If you have any news, accomplishments or highlights about your work or life, please be sure to share them with us, by emailing us at nicholsonews@ucf.edu.