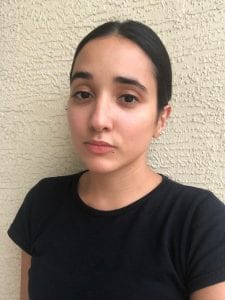 A Nicholson School of Communication and Media alumna was part of the data collection team that helped The New York Times win the 2021 Pulitzer Prize in Public Service – the highest honor in print/digital journalism. The award was announced June 11.
Bianca Fortis, who graduated with a bachelor's degree in journalism from UCF in 2010, was part of the 20-member daily data journalism team that created the Times' award-winning Covid-19 database that comprehensively tracks and maps coronavirus cases, deaths and other impacts around the country during a pandemic that has killed about 600,000 people in the United States.
In honoring the newspaper with the Pulitzer, the award committee stated that the Times "filled a data vacuum that helped local governments, healthcare providers, businesses and individuals to be better prepared and protected.''
Fortis joined the team in May 2020, right after graduating from Columbia University in New York City with master's degree in journalism with a specialization in investigative reporting. She worked on the Times data project through September.
After she was hired, her first task was to help create a database to track coronavirus cases in nursing homes around the country.
"There was no federal tracking system, so the Times was basically trying to fill that gap,'' Fortis said recently in an interview with Nicholson School journalism senior instructor Rick Brunson. "Data is so crucial to making public health decisions, and there was just no data, or some gatekeepers made it very difficult to get it.''
Initially, the big challenge was collecting disparate data from all 50 states that each had its own way of tracking cases and other statistics. Early in the pandemic some states, such as Alaska, released no data. Other states released them in different formats such as on PDFs or in complicated charts, which made it challenging to organize and present the data in a uniform, coherent, searchable database for all 50 states, Fortis said.
The team pulled data from individual state websites and input it into a massive Google spreadsheet.
"At first it was a lot of data entry, and that was challenging because each state tracked its own data differently,'' Fortis said. "So, we had to develop methodologies for how to count cases and how to count deaths, etcetera. Florida was particularly difficult to work with.''
Another challenge was that some coronavirus data, such as cases at day care centers or churches, was not tracked at all by some states. Fortis and the team would comb through news reports about such cases and crosscheck them against state data or sometimes call these institutions directly by phone to verify case count information.
Working remotely was another challenge. Right as Fortis joined the Times data team in spring 2020, New York City became the hotbed and epicenter of the pandemic in the U.S., averaging more than 900 deaths a day. The city shut down, including The New York Times building, and the staff had to work from home. Fortis left her Brooklyn apartment and returned to her hometown of Spring Hill, Florida. The data team used a Slack channel to do their work.
In August, Fortis helped develop the Times' coronavirus case tracker for colleges and universities.
"As the summer was ending, Times reporters had this hypothesis that it seemed very likely that there are going to be a lot of cases on campuses as schools start to open for the fall semester,'' Fortis said. "At the time, very few universities were publishing their case data online. UCF was actually one of the first, so I was proud of that fact. We got a lot of push back from universities that did not want to share their data with us. Some schools wanted us to submit FOIA [Freedom of Information Act] requests in order to get data. They made it difficult, and I had a hard time with that. Some military schools did not want to tell us anything. So, I had to resort to public documents and YouTube videos and meeting minutes where they had talked about the number of cases, and it was already public. So, I had to report it out that way. But as we started publishing it got easier because schools started understanding what we were trying to do and more of them started being more transparent about their data.''
Fortis said being on the Times data project was gratifying and deepened her journalism experience. She learned a multitude about making public records requests and about what's possible with data, especially making it visual in interactive maps and graphics. She adds that what differentiated the Times' database from others was its searchability and ease of use, as well as how granular and detailed it was in presenting clusters of cases in local communities and venues anywhere in the country.
"There was no national tracking system, and it's difficult, if not impossible, for public health officials to make choices and decisions when there is no data available,'' Fortis said. "The Times has the resources to do this. They can hire all the staff they need to make that happen. But for the Times to take the initiative to accumulate all of that data and create comprehensive, easy-to-use databases I think was really powerful at a time when the country needed it. We frequently got letters from readers telling us how useful they found it. There was a staffer at the Times who would compile those notes and send them out to us, and it was good reminder that we were doing work that was important – especially on the days when the work was tedious and boring.''
While her work on the project ended in September, Fortis has continued her development as an investigative journalist, being named a reporting fellow at Columbia Journalism Investigations where she produced a story about timber trafficking in the Amazon. Most recently, she received a two-year investigative journalism fellowship with the nonprofit news organization ProPublica.
It's Fortis' latest achievement in an 11-year journalism career that has included reporting jobs at the Gotham Gazette and AM New York Metro newspapers. She was also associate editor at MediaShift.org, a website that tracks new media trends and was an investigative intern for the CNBC business channel.
Her success surprises none of the Nicholson School faculty who taught and worked with her when she was an undergraduate.
"Bianca is the kind of student you remember,'' said Kim Voss, Ph.D., professor of journalism. "She was in my Public Affairs Reporting class a decade ago, and we've remained in touch through Facebook since then. I have enjoyed watching the important journalism she has done in the years since graduation, and I was so excited for her when I learned she was part of the New York Times Pulitzer Prize team. It's an impressive and deserved accomplishment, and I really believe this is just the beginning of a significant career."
Fortis says data journalism is a fast-growing specialty within the field and she plans to continue developing her data skills.
"Reporting is so much more in depth when you have the numbers behind it,'' she said. "The data adds credibility to your story. You can talk to this person or that person and they can give you different information. You can argue with anecdotes, but you can't argue with numbers.''
Published to Nicholson News July 1, 2021, based off of this UCF Today article. Written by guest columnist and Nicholson School Senior Instructor of Journalism, Rick Brunson. Edited for Nicholson News by Iulia Popescu.
If you have any news, accomplishments or highlights about your work or life, please be sure to share them with us, by emailing us at nicholsonews@ucf.edu.