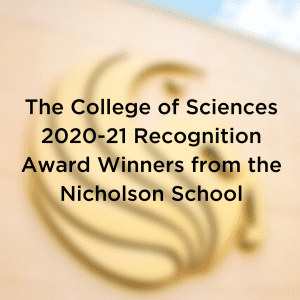 The College of Sciences has provided 15 recognition awards to recognize outstanding service.
The College of Sciences 2020-21 Recognition Award Winners from the Nicholson School are Debbie Doyle, Rebecca Morales, D.D. Moullet and Dylan Yonts.
As of July 1, 2020, the Nicholson School of Communication and Media (NSCM), which was an 'inter-college school,' reporting to two colleges, was moved to solely be within the College of Sciences.
This move required a great deal of work and effort from many people – one of those being Human Resources Generalist, Debbie Doyle, who started working with the Nicholson School in April of 2012.
Many functions had to occur, of which Doyle was the only person in the school to do them.
Among the various functions Doyle assisted with, she was also the key administrative staff person assigned to provide human resources, purchasing of items and facilitation of processes for the Nicholson School's presence on both main and downtown campuses, for more than 100 faculty and staff.
In addition to facilitating the hiring process for the search for an administrative lead for UCF Downtown, Doyle trained the new lead and still serves as a point of reference on all the functions she would need to assume, to provide the support Doyle was providing to UCF Downtown faculty, staff and administrators.
Doyle was also search manager for ten staff and faculty positions in NSCM, holding a magnitude of responsibility and taking care of a plethora of duties. She is worthy of recognition, appreciation and celebration for her outstanding work in NSCM as her contributions have exceeded those expected of her during the normal course of performing her duties.
Nan Yu, Ph.D., Associate Director for Academic Programs and Student Services, described Doyle's contribution.
"Debbie has been a very hard-working and trustworthy colleague," said Yu. "Her work has helped create a positive, organized, supportive working environment within NSCM. She cares about students and faculty and utilizes her best efforts to assist everyone that came to her for help. She also makes sure that things are done correctly, and the appropriate protocols are followed. Her working integrity has served as an inspiring model for others who work with her. She has been a special and invaluable asset to NSCM."
Rebecca Morales is the director of advising and student services, and manages the Nicholson Academic Student Services Center (NASSC). She joined the Nicholson School of Communication and Media in 2009 and currently oversees student and advising services for more than 4,000 undergraduate students, coming from 8 majors within the Nicholson School. Therefore, the amount of workload her office faces on a daily basis is extremely high.
Morales has served UCF for 19 years. Her contribution to UCF is also manifested in her continued, sincere caring for UCF students.
Her ability to handle special, challenging needs during the pandemic was also impressive. She and her office managed to cope with the significantly increased number of inquiries from faculty and students regarding a myriad of issues.
On top of her duties, she developed cutting-edge FTIC and transfer orientation Webcourses; developed virtual open houses to adapt to the needs imposed by COVID-19; created remote advising and student services model; created remote enrollment process for internship, independent research, independent study and practicum courses for all NSCM undergraduate students as well as recruited, hired and trained a facilities scheduler and an academic advisor.
Award recipient D.D. Moullet serves as Academic Advisor II in the Nicholson School. She is responsible for providing academic advising for one of the school's most complex degree programs as the main point of contact for the program; organizing and presenting at student workshops and open houses; meeting with prospective students and parents as well as assisting with reviewing course scheduling and other tasks that help keep the Nicholson School moving.
Moullet is the first line of interaction with Nicholson students and is personally involved with their success. Her tireless work has helped ensure that students' needs were also met during the pandemic. She is committed to ensuring that Nicholson students succeed and successfully matriculate through the program.
The last recipient, Dylan Yonts, serves as an instructor and a Broadcast Production Specialist for the Nicholson School.
Yonts's orientation to his work is that although he's assigned to the school's broadcast programs as a primary responsibility, he's an employee of the school and when necessary, he performs duties outside of the broadcast programs.
This was never more evident than during the pandemic, when the Nicholson School had to oversee the preparation and move of so many complex, traditionally tactical pedagogical approaches to virtual formats.
Without being asked, Yonts immediately stepped-up and worked around the clock to bring faculty and students virtual spaces to best re-create the in-person circumstances, so students could get the education they needed. He invested many hours above and beyond his scheduled hours to ensure the faculty and staff had what they needed.
Additionally, Yonts served as the school's designated 'Essential Personnel,' which brought him to campus weekly, and often nearly daily, not only to troubleshoot remote issues for students and faculty, but to also serve as the point of contact to ensure the faculty, staff and broadcast production facilities on the main campus were COVID-compliant, ordered all of the PPE for the school and managed the inventory. This is above and beyond any of his assigned duties – all while teaching his own course during this time.
Boyd Lindsley, Ed.D., senior director of NSCM, said, "Yonts was a linchpin to the school's success in moving through the pandemic."
These outstanding staff members deserve to be recognized by COS for these efforts. NSCM is grateful for all the exceptional work done by all faculty and staff members to keep the school 'charging on' during the times of COVID.
Published July 1, 2021. Written by Iulia Popescu.
If you have any news, accomplishments or highlights about your work or life, please be sure to share them with us, by emailing us at nicholsonews@ucf.edu.