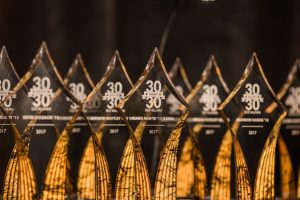 Determined, fierce, adaptive, genuine, giving – these are some of the characteristics that make up the 30 Under 30 alumnae winners, of which five came from the Nicholson School of Communication & Media.
The 30 Under 30 awards program within UCF recognizes outstanding young alumni. The winners are chosen for their great professional success, commitment to helping others and track record of giving back to UCF and their local community.
Advertising/public relations (Ad/PR) majors Jessica Aksu '13 '18MBA, Peri Silverman '16 and Alexandra Thompson '13, along with Radio Television majors Brittany Dansereau '13 and Paula Machado '12, were amongst the proud recipients.
Machado, a former news reporter who now owns her own bilingual communication agency called Fire Ant Communications, said that her tiny differences – such as being bilingual – has made all the difference. She believes that with success comes the responsibility to give back to the community.
"I've been heavily involved with the National Association of Hispanic Journalists (NAHJ) ever since I was at UCF," Machado said. "I've also focused a lot of my philanthropic efforts in raising money and awarding students with scholarships to go to finish school. Education has been such an important factor in my success, and everyone deserves a chance at getting a diploma."
If Machado could use one word to describe herself, it would be fierce. She moves with a ferocious determination.
Dansereau is a Radio Television alumna like Machado. Dansereau works for Miller's Ale House Corporate, but she wasn't always so confident about what path she wanted to go down.
"After doing a few internships in college, I realized my passion for marketing and advertising far exceeded becoming a producer," Dansereau said.
Dansereau chose a unique minor, Sports Business Management, which has also provided life-long connections for her, helped her learn discipline and responsibility, assisted her in understanding the power of networking and helped lead her towards the majority of the internships she has participated in.
While attending UCF, she was heavily involved in the Kappa Kappa Gamma sorority, Radio Television Digital News Association and the Sports Business Club. Her internships included UCF Athletics, Orlando City Soccer, ESPN 1080AM, Golf Channel and FOX 35.
Dansereau believes that it is important to jump outside of one's comfort zones. She describes herself as someone who is constantly improving.
Ad/PR graduate Thompson also has a passion for marketing. Thompson began her career as a Creative Services Producer for Graham Media Group station WKMG. Her experiences include covering groundbreaking cases such as the Casey Anthony trial, the George Zimmerman trial and the Pulse tragedy.
Thompson is now a marketing manager for UCF itself.
"UCF believes in giving people the opportunity to obtain a high-quality degree, when and where works best for them," Thompson said. "Through my work, I am able to connect individuals, all over the nation and beyond, to one of our over 90 online degree programs."
When Thompson was a student at UCF, she was selected as an Emma Bowen Foundation Scholar, which connects minorities interested in media with a multi-year paid internship at some of the national's leading media, PR and technological companies. Now she can give back to the school, which is something she has always wanted to do.
"For me, figuring out how to give back to UCF the amazing experience and support I received as an undergraduate was always in my lifelong plan," Thompson said.
If she could use one word to describe herself, it would be genuine.
Another alumna, Silverman, works as Senior Account Executive at Digitas Health (DH), a subsidiary of Publicis Health – one of the world's largest healthcare communication networks.
Silverman spoke about how opportunities outside of day-to-day responsibilities are often the most memorable.
"In partnership with my company and the Philly Ad Club TEEN program," Silverman reminisced, "I had the opportunity to lead a program mentoring local middle school students and teach them about future careers in advertising. After the program was over, I received a letter from one of the students telling me how I inspired them to pursue a career in advertising. Knowing I made such an impact on that student's life by simply waking up a little earlier a few days throughout the year and sharing my passion for advertising is so inspiring."
Silverman would describe herself as determined.
Ad/PR graduate Aksu is proud to be paving the way for future women in a male-dominated industry. She works for a Construction Management firm called T&G Constructors.
Aksu was able to receive her undergraduate education at UCF due to scholarships and grants. She feels fortunate to have attended UCF and wishes to help others receive an education – much as the other 30 Under 30 alumnae do.
Aksu also loves to give back. She is an avid volunteer for the Covenant House Florida and sits on the committee for the annual fundraising event, The Sleep Out, in order to raise money for homeless youth.
If Aksu could use one word to describe herself, it would be adaptive.
"Life has thrown a lot of curve balls my way the last few years, but I always find a way to adapt and figure it out," Aksu explained.
This adaptive quality has helped her become a 30 Under 30 Awardee.
"At UCF we continue to showcase what a truly remarkable young alumni community we have with our 2020 30 Under 30 recipients," said chair of UCF's Young Alumni Council Marley Hughes '11. "These young leaders continue to set an incredible example for our alma mater. On behalf of the Young Alumni Council, I extend my sincerest congratulations on this well-deserved accomplishment."
Congratulations to our outstanding alumnae!
Published June 1, 2020. Written by Iulia Popescu.
If you have any news, accomplishments or highlights about your work or life, please be sure to share them with us, by emailing us at nicholsonews@ucf.edu.