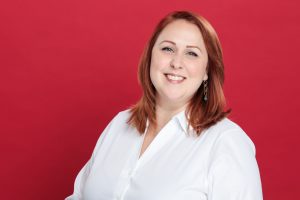 Alumna Ellie Hodgkins was promoted to communications strategist at Curley & Pynn Public Relations Management – The Strategic Firm.®
In her new role, Hodgkins will lead the planning and management of public relations and marketing strategies for several of Florida's leading brands in higher education, tourism and power generation and delivery.
Hodgkins joined Curley & Pynn in 2018 as a communications specialist and has since become a trusted adviser and essential partner to Beacon College, the International Association of Amusement Parks and Attractions (IAAPA), Lake Apopka Natural Gas District and more.
In 2019, she was promoted to associate communications strategist and only a year later, she has been promoted once again.
Founded in 1984, Curley & Pynn provides counsel and advice, and total program management to Florida professionals and corporate clients who recognize that in today's business environment it is essential to communicate with all who have an interest in their success.
Before joining the Curley & Pynn team, Hodgkins served as a marketing consultant for Art & History Museums – Maitland and in numerous supervisory roles with Home Shopping Network, where she gained valuable experience liaising with brands such as Coca-Cola, Wolfgang Puck, Bon Appétit magazine and more.
In April 2020, her work on the media relations program for IAAPA's 2019 Global Expo was recognized with an Award of Distinction in the Florida Public Relations Association's Golden Image Awards program, which honors top public relations programs statewide.
A member of the Public Relations Society of America's Orlando Regional Chapter since 2018, Hodgkins also currently serves on its board of directors as assistant treasurer, after serving the last two years as sponsorship chair.
Hodgkins earned a bachelor's degree in human communication and a minor in film from the University of Central Florida (UCF), and regularly returns as a guest speaker to mentor students in Quotes, the Ad/PR Club at UCF.
For more information about Curley & Pynn's team of professionals, visit https://thestrategicfirm.com/about/. Connect with the firm on Facebook and LinkedIn.
Published February 1, 2021. Written by Iulia Popescu.
If you have any news, accomplishments or highlights about your work or life, please be sure to share them with us, by emailing us at nicholsonews@ucf.edu.