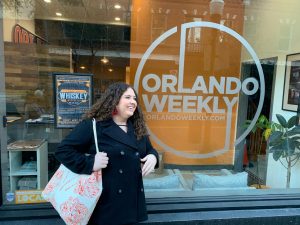 Journalism major Samantha Olson has known she wanted to be a journalist since she was about 12 years old. She's never looked back since.
At UCF, she has covered several Board of Trustees and presidential search meetings for NSM Today in Fall 2019, and she is the senior editor for Her Campus UCF, an online magazine dedicated to empowering college women.
She thought an internship would be the next logical step, but she had a major obstacle blocking her path – she didn't have a vehicle.
Without a car in the massive city of Orlando, where people can drive for an hour and still not see city limits, she was scared her lack of transport would limit her.
Still, she pushed herself to apply for internships and nervously decided to give Intern Pursuit a try.
Olson entered UCF's Pegasus Ballroom in Fall 2019 where Intern Pursuit is held. She wondered if she would make good first impressions and be accepted into a fitting internship. Most of all – even if she was chosen, how would she get there?
Through Intern Pursuit, Olson was able to receive a highly sought-after internship at the Orlando Weekly in downtown Orlando. The Weekly is a free newsweekly distributed in the Greater Orlando area of Florida.
Now that she secured the internship, she had to finally tackle the dilemma of how she would get to and from it.
Luckily, she started interning at just the perfect time. The new UCF transportation to downtown had opened in August 2019. This service provided her the necessary access to intern at the Orlando Weekly.
Olson is now among three other NSCM interns at Orlando Weekly – Isabella Marchetta, Lillian Hernández Caraballo and Maya James.
Olson spoke about her passion for journalism, starting her exciting, new internship and how the bus to the downtown campus has alleviated her stress about arriving there.
What do you love most about journalism?
I'm one of those people that was really sure of who I was from a young age. I remember a reporter came in one time during professor Rick Brunson's principles of journalism class and said that being a journalist is like being a kid on a field trip every day. That's the way I see it. That's what I love about the industry.
What are some of your dreams and goals after college?
I'm more into magazine journalism, but eventually, in the future, I would want to be an editor for a publication. The dream since I was 13 has always been moving to New York. And my down-the-line, end-goal, before-I-die dream: I want to cover the Grammys … or Met Gala because I love the fashion, but I also love the prominence that's there. I feel like winning a Grammy for a musician is like winning a Pulitzer as a journalist.
What do you do for your internship?
I intern for Orlando Weekly, but they also have digital content uploaded every day on their website. As their intern, I write a lot of digital content for the site. Everything we've learned in the program at Nicholson all ties in because all the journalistic principles are there, but we do have a little more freedom to play with our voice in our writing.
Were you nervous about having issues arriving at your internship without a car?
I was super worried about getting places, just in general, but I didn't want to limit myself. I found my way thanks to UCF's resources. The downtown shuttle is incredible.
What is it like seeing your name in Orlando Weekly? I was just looking through a copy yesterday!
Seeing my name in Orlando Weekly, whether it be on their website or in the physical paper, is so surreal. Maybe I'm overthinking it since it's the first time my name has ever been printed in a physical newspaper, but it feels like a dream come true. It's incredibly rewarding and always reminds me of how far I've come through hard work and determination.
What has been your favorite part about getting the opportunity to intern with Orlando Weekly?
I'm from Miami but I moved to Orlando for college. I've lived here for about four years and still didn't know half of Orlando but working for this publication I'm learning so much about my city. I can say it's my city now.
Copies of Orlando Weekly can be found around campus in places like Millican Hall and around Orlando. Find more locations around town here.
Anyone interested in internships or careers with Orlando Weekly can go to their website for more information.
Published April 1, 2020. Written by Iulia Popescu.