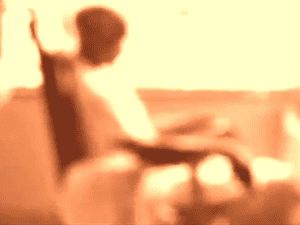 The film "Della," which features a moving-picture portrait of the life of an African American woman named Della Fleming, was originally produced and released during the summer of 1966 by Associate Professor of Film, Robert "Bob" Jones.
Since then, "Della" has been screened in more than 20 film festivals and it has won six Best Documentary awards.
Fleming, the woman seen on screen, was 95 years old at the time of filming and reminisced on many aspects of her life within the documentary. Jones often finds muses in the real world to document raw stories.
The idea for "Della" came to Jones when he was teaching a summer film workshop under the auspices of the JFK Outward Bound program at Fiske University in Nashville. One of the students said that his grandmother may be a person of interest for the direction of Jones' film.
After speaking with Fleming, who shared many stories about her life with him, Jones realized that he had found the perfect candidate to center his film.
He was also inspired by the work of Bruce Bailey, who enjoyed crafting portraits of people, but with an experimental edge to it.
55 years after its initial release, the recent reinvigoration of the discussions, protests and action surrounding civil rights and the Black Lives Matter movement becoming more omnipresent in the United States, Jones started re-editing "Della," into a shorter film in order to share the story with audiences once again.
"I wanted to show how important [Black Lives Matter] is, you know, we're talking about real people, we're not talking about abstract slogans and there's nothing more real than 'Della,'" said Jones.
In his process of shortening and re-editing the original film, Jones also added different images and updated the soundtrack.
Published October 1, 2021. Written by Iulia Popescu.
If you have any news, accomplishments or highlights about your work or life, please be sure to share them with us, by emailing us at nicholsonews@ucf.edu.