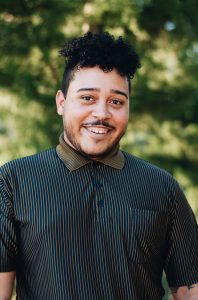 For the first time, LatinX voters are projected to be the second-largest voting demographic. Every 30 seconds, a LatinX person turns 18 and becomes eligible to vote, according to Census Bureau data.
This new generation of LatinX voters includes Victor Samuel Martinez-Rivera, 23, who works as administrative and communication support in NSCM.
Martinez-Rivera was born in Toa Baja, Puerto Rico, but has been living in Orlando, Fla. since Hurricane Maria struck.
Since Puerto Ricans can't vote for president, this is Martinez-Rivera's first time voting in a general election. They were interviewed by Code Switch, a podcast hosted by journalists of color from National Public Radio (NPR) News as part of the new generation of LatinX voters.
"I came here [to Florida from Puerto Rico] and immediately I'm faced with discrimination, and I'm faced with stares," Martinez-Rivera said, originally published in NPR News. "I'm faced with reading the news about another Black person being killed, just because of their skin color, or another trans woman being killed because of their identity. So, I'm taking this fear and I'm taking these emotions and I'm stepping up."
Martinez-Rivera has encouraged their friends to vote, helped them identify their voting polls or learn how to vote by mail, has taken some friends to vote and is using their social media platforms to share voting information.
To read up on some voting knowledge and resources, click here.
Published November 2, 2020. Written by Iulia Popescu.
If you have any news, accomplishments or highlights about your work or life, please be sure to share them with us, by emailing us at nicholsonews@ucf.edu