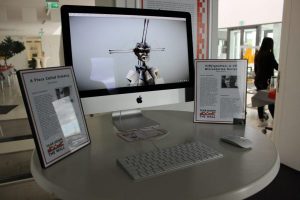 The 31st ACM Hypertext conference is coming to UCF in July 2020. Co-chaired by UCF faculty member Anastasia Salter and John Barber of University of Washington, Vancouver, the conference invites research on all aspects of the modern web. Topics include hypertext theory, social media, interactive narrative, hypermedia systems and applications. Last year's conference, hosted in Berlin, Germany, featured an exhibit of creative digital work entitled "Tear Down the Wall," including the virtual reality work V[R]ignettes (pictured). The conference theme, "Hypertext for Social Good," seeks to bring an interdisciplinary perspective to the pressing challenges and opportunities presented by the web today.
The call for submissions is open through March 13th. The conference invites work in four tracks: hypertext infrastructures and user interfaces; hypertext literature, games, and digital humanities; web and the society; and social media analysis. The event will also include an exhibition of work focused on "Climates of Change" and demonstrations of web-based technical work. UCF faculty, staff and graduate students are encouraged to participate. All work accepted for the conference will be published in formal ACM proceedings.
The ACM Hypertext conference is part of ACM SIGWEB, the ACM Special Interest Group on Hypertext and the Web. The team planning the conference includes an international team of scholars as well as faculty and students from UCF's Texts & Technology doctoral program, the College of Arts and Humanities, and the Games and Interactive Media department.
This was originally posted with the College of Arts and Humanities .