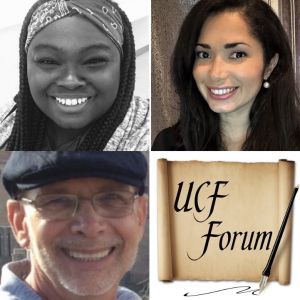 Two Nicholson students and a faculty member have joined the new hoard of columnists who write for the UCF Forum Series.
The UCF Forum Series, a weekly series of opinion columns posted to UCF Today, is now full-swing into its eighth year.
Nicholson students Sasha Mills and Lillian M. Hernández Caraballo, and NSCM faculty member, Jeff Kunerth, are among the new columnists. In addition to their other responsibilities with UCF, they will share their own opinions through a multitude of topics that they will be allowed to choose over the next 12 months, until October 2020 when others will be installed as new writers.
Despite three of the new columnists coming from NSCM, they all have varied backgrounds, interests and likes.
Mills (pictured top left) is a UCF junior working on her bachelor's degree in human communication with a focus on social innovation and activism.
For the past eight years, she has worked for the City of Orlando as a community support specialist with the city's Parramore Kidz Zone nationally-recognized program, helping families who reside in the neighborhood where she grew up and helping them lead happy and healthy lives.
At age 15, she was among 22 youngsters from Orlando's Parramore neighborhood who made movies through Digital U, a storytelling program, where she spoke about gun violence and the impact it has had on her family. Now, she mentors kids herself and says that the kids respond to mentoring from adults like her.
"They're a lot more dedicated when they see the influence around them, and they see we're from the same neighborhood, and that we're trying to do something with our life," said Mills.
Mills is particularly interested in writing about issues such as voting rights for formerly imprisoned citizens and economic and racial equity.
Hernández Caraballo (pictured top right) is a UCF junior planning to graduate in 2021 with a bachelor's degree in journalism, minors in writing and rhetoric and Latin American studies, and a Hispanic/Latino media certificate. She was chosen to participate in NPR's Next Generation Radio program from April 29 through May 3, 2019, which was recently highlighted in a Nicholson article here. The finished project aired on 90.7 WMFE-FM.
Hernández Caraballo wishes to become a voice for the voiceless. Her articles will be focused on topics such as Generation Z's coming of age, how people should start trusting experts again and the unspoken narcissism of writers and artists. Her first article for the series, titled "A New Generation That Understands Its Power and Role in the World," is the first opinion piece she has shared so far, of many more to come.
Kunerth (pictured bottom left) has been a faculty member in NSCM since 2014 after working 41 years as a reporter with the Orlando Sentinel. At the Sentinel, he won numerous writing awards, including being named a 2013 Pulitzer Prize finalist for his contribution in the newspaper's coverage of the hazing death of a FAMU drum major.
Kunerth starts off every morning at 5 a.m. with a cup of coffee and a book. He has always loved writing, but his passion for journalism particularly comes from his father.
"Dad taught journalism for 30 years at Iowa State University, where I graduated with a journalism degree in 1974," Kunerth said. "Early on, I remember him taking me – and my brother who became a newspaper publisher – to the press building where the Iowa State Daily was printed. I became intoxicated with the smell of ink and newsprint. I switched [my major] to journalism when I realized I could write every day and get paid for it."
Since joining the journalism faculty, he admitted he hadn't done as much writing as he used to since teaching has taken up most of his time. So, when Gene Kruckemyer, a friend and former colleague at the Orlando Sentinel, offered Kunerth the opportunity to join the UCF Forum rotation, he jumped at the chance to write again.
As a journalist and journalism professor, Kunerth is most concerned about topics such as the assault on the Second Amendment, the freedom of press and the serious consequences of diminished newsrooms in keeping government honest. Beyond politics, he's always been more interested in what brings people together – the commonality of human experience – than what tears people apart.
His first opinion column is up: "The Evolution of an 'Office Park' to a Campus with Vitality."
The three of them, alongside Emma Gisclair, Roy Lenfest, Chung Park, Syretta Spears, Peter Telep and Brenda Thompson will replace the current panel. To learn more about the other columnists taking over alongside Mills, Hernández Caraballo and Kunerth, read this article from UCF Today.
Gisclair started off the rounds of opinion columns with her article, "In Defense of Fan Fiction," which was published on October 2.
The columns for the UCF Forum Series are posted every Wednesday at UCF Today and then broadcast between 7:50 and 8 a.m. Sunday on WUCF-FM (89.9).
Read up on what the new columnists have had to say by going to the UCF Libraries' STARS digital repository. The chronological list can be searched by author or topic. In the repository, all of the UCF Forums since they started are kept and maintained there. That's more than 350 opinion pieces by individuals from all over the university!
This article was written by Iulia Popescu.