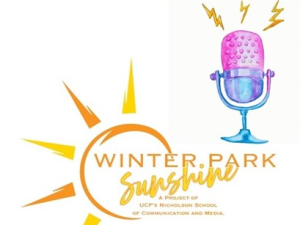 Robb Conrad Lauzon, Ph.D., the Nicholson School's first postdoctoral scholar, has been hard at work teaching, conducting research and leading the School's Transparency Project, Winter Park Sunshine.
Deploying the Diffusion of Innovation Theory, Lauzon is responsible for conducting community-based research on the department's Transparency Project, Winter Park Sunshine, which is working to bring more transparency to Winter Park city government. Data journalism major Chelsea Velez works with him, assisting the research.
"The Winter Park Sunshine Project provides a unique opportunity in being a part of the larger discussion of government transparency beginning within our own local communities," said Velez. "This project has given an educational experience to students like myself as we work toward producing awareness of the website. Hopefully this grows into an even larger project expanding into other communities."
In Lauzon's courses, students are also guided through real-world research experiences that contribute to observable results.
"There is no onus on the politicians of America, either at the local or national level, to publicize any data or to make any information be known to the citizens, which is problematic," said Lauzon. "Unless you are interested in that information, it's going to be behind closed doors. That's why a project like Winter Park Sunshine is such an important project – unless the citizens do something about this, nothing will be done."
Winter Park Sunshine is a project of the University of Central Florida's Nicholson School of Communication and Media and has been made possible through a generous grant from Winter Park philanthropist Glen Salow and the Salow Transparency Project. It was originally started by Senior Instructor Rick Brunson.
Brunson's RTV 3301 Electronic Journalism I class is producing a six-episode podcast series on Winter Park topics and issues that debuts March 10. Brunson's class is working with students in Lauzon's COM 4450 Public Communication Campaigns class, which will promote the podcast series and measure its impact on Winter Park listeners and voters. Keep an eye out for the podcast launch on their website!
Published March 1, 2022. Written by Iulia Popescu.
If you have any news, accomplishments or highlights about your work or life, please be sure to share them with us, by emailing us at nicholsonews@ucf.edu.