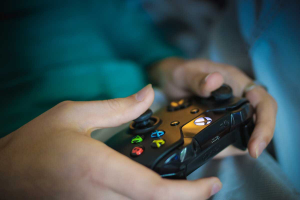 With the global pandemic forcing everyone inside, video games and films are proving to be a good way to reduce stress and keep busy.
The Florida Interactive Entertainment Academy has released a list of video games, created by alumni, to enhance the quality of time spent indoors.
Since its founding in 2005, FIEA, the No. 1 ranked graduate video game design program, has had alumni work on hundreds of games that have gone to market.
"We hope these video games will help people stay connected while staying safe at home during the COVID-19 pandemic," Ben Noel, executive director of FIEA, said.
The following games are listed in order of Metacritic scores, where 90-100 percent is considered a "must-play" certification:
Red Dead Redemption 2: 97 %
The Last of Us Remastered: 95 %
BioShock Infinite: 94 %
Uncharted 4: A Thief's End: 93 %
Gears of War 3: 91 %
Borderlands 2: 91 %
Overwatch: 90 %
The Walking Dead: 89 %
Diablo III: 88 %
Batman: Arkham Knight: 87 %
Fallout 4: 87 %
Gears of War 4: 86 %
Rise of the Tomb Raider: 86 %
Destiny 2: 85 %
Battlefield 4: 85 %
Halo: The Master Chief Collection: 85 %
Mortal Kombat X: 83 %
Madden NFL 18: 82 %
Films are also an excellent way to pass time spent indoors. Here is a list to check out:
"Crimes of Passion" – 1984 (For rental on Amazon)
Ken Russell plus UCF associate professor Barry Sandler? This American erotic thriller is sure to be an unforgettable film.
"Tremors" – 1990 (Netflix)
Stuck at home? Could be worse… could be underground sandworm monsters. A classic 90's monster movie starring Kevin Bacon that has characters entrapped by an unseen terror. Familiar? Funny, scary, inventive, and full of truly seamless practical monster FX, all under the amazing production management of the Nicholson School's own Lisa Peterson, an associate professor of film!
"Interior" – 2016 (TubiTV and Amazon Rental)
How about a horror movie about a man stuck in a house? Check out the debut feature of UCF film graduate and professor Zackary Beckler.
Rear Window – 1954 (for rental on all platforms)
An injured Jimmy Stewart is trapped at home looking outward at the lives of his neighbors when he sees what might be… a murder? The ultimate in quarantine suspense, and one of professor Beckler's personal favorite Alfred Hitchcock films. Just when you think you're safe in your home…
Once Upon A Time… in Hollywood – 2019 (for rental on all platforms)
A celebration of facades, as an aging Western actor finds himself lost and insecure in an industry moving more and more towards gritty realism. His best friend, appropriately, is his out-of-work stunt double, a real-life cowboy in charge of maintaining the illusion of his fame. Throughout the film, we sense a ticking clock of the horror to come, as scenes of a truly radiant Sharon Tate seem both thematically appropriate (shown with glimmers of the same insecurities that cloud every character) and oddly disconnected.
Magic Mike XXL – 2015(Free with ads on VUDU)
Hear me out… remember hanging out with friends, going on road trips and discovering your inner truth again? This is the perfect distillation of that feeling. It is a film about positivity; there is no unnecessary conflict, no character stays mad at another character for long, no situation is deemed hopeless, nothing is demonized, and there is no villain. It is simply an episodic journey from one place to the next with a bunch of characters that enjoy being around each other.
The rare Spike Lee film not written by Spike Lee (instead written by Game of Thrones showrunner David Benioff in his screen debut), 25th Hour deals with one of the other great crises of our time — Sept. 11. As we prepare for life after COVID-19, whenever that may come, the film shows a blueprint for honest reappraisal of how we live our lives, and where our priorities should lie. And it's just a great film, selected by undergraduate film program coordinator and lecturer Tim Ritter to share.
Fanny and Alexander – 1982
You're much more likely to know the phenomenal Swedish filmmaker Ingmar Bergman for his much copied and parodied The Seventh Seal (1957), which is also absolutely incredible. But Fanny and Alexander is something special all its own — a sprawling yet incredibly intimate story of two kids who must adapt when their whole lives are overturned by a shocking event.
Beasts of the Southern Wild – 2012
With no big-name actors and a fairly small budget, this beautiful fairy tale creates a fictional world set smack in the middle of the real-life Louisiana Bayou, with plenty of texture and grit and humanity to make it feel realer than most real places. As the central young girl Hushpuppy (Quvenzhane Wallis) must make sense of her surly father's sudden sickness, a hurricane that looks a lot like Katrina washes over their clapboard home — and the beasts descend from the north. The film asks fascinating questions about real poverty versus spiritual poverty, and facing our own mortality with grace and dignity.
Published May 1, 2020. Written by Iulia Popescu.
If you have any news, accomplishments or highlights about your work or life, please be sure to share them with us, by emailing us at nicholsonews@ucf.edu.