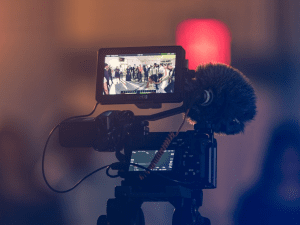 UCF film alumnus Tyler Falbo '14 created, wrote and directed the series "Immoral Compass," then collaborated with comedians Bill Burr and Bobby Lee to bring it to life.
The stories in the series can be crude, but Falbo sees a higher purpose in this dark humor.
"We live in a weird and dark world, and hopefully these kinds of shows can make light of how screwed up we're capable of being," Falbo said.
Falbo first pitched "Immoral Compass" in early 2019 and it eventually found a home on the Roku streaming service. Burr introduces each episode directly to the camera, with guest appearances by comedians such as Vince Vaughn, Lori Petty and David Dastmalchian, furthering Falbo's goal of "making people feel bad for laughing."
"There was no money in it for them, so to have people like [them] is a miracle in my book," Falbo said.
While the star power and production value have improved, "Immoral Compass" is just another step in a long line of dark comedy shorts for Falbo. His passion for filmmaking began in high school.
"Filmmaking is a really good way to present ideas," Falbo said.
Falbo first began gaining attention on his YouTube channel with films such as "Moving in" and "Eviction Notice." Once accepted into the film program at UCF, Falbo quickly dove into making short films for both his class and own enjoyment. He met Cornelius O'Donoghue '14 during one of his film classes, who would later become the director of photography for all 10 episodes of "Immoral Compass."
O'Donoghue is not the only person Falbo continued to work with after graduation. Mike Collins '14 served as the gaffer for all 10 episodes of "Immoral Compass" along with Olivia Wilson '19 who worked as the first assistant camera position.
Falbo also gives credit to Jon Bowen, who serves as the operations manager for the Film Program.
"I always got wrapped up in conversation with him surrounding technical stuff, and I think if I had to pick any faculty member that helped and guided me the most, it would be him," Falbo said. "I learned specifically why it wasn't about the gear as much as how you use it."
Falbo carried the lessons learned from his time at UCF with him as he worked on his first show in California, saying that there were quite a lot of similarities between making short films and working in the studio system. A big, shared connection was making the most of what you have.
Viewers can now watch "Immoral Compass" on Roku devices, Roku TV's, Amazon firestick, Samsung TV's or in browser on computer or phone.
This article was previously published here.
Published to Nicholson News on February 1, 2022. Edited by Iulia Popescu.
If you have any news, accomplishments or highlights about your work or life, please be sure to share them with us, by emailing us at nicholsonews@ucf.edu.