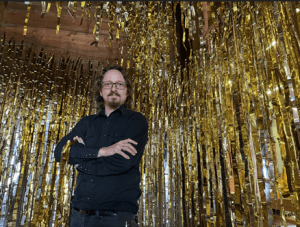 Associate professor Matthew Mosher's art has been exhibited as far and wide as India, China and the Netherlands. His latest installation on display, entitled "Inveiglement," has also been turning heads recently – all the way in Austria.
As a child, Mosher's mother often took him and his sister out to museums. Now, he is presenting his own art in international galleries.
His interactive installation in Salzburg, Austria, "Inveiglement," examined the exhibition theme, Island Time, and was constructed from fish netting and emergency blankets to bring attention to issues such as climate change and climate migration.
Although the piece appears bright and happy at first glance, with hundreds of gold and silver ribbons, the streamers are cut from rescue blankets.
"I see art as a means of societal critique," said Mosher. "The installation is really about a contrast of the materials and the place. I was thinking a lot about climate change. And I believe it's important to acknowledge that we all have a role to play."
The materials it is constructed with invites further thought and questioning: what is humans' relationship to climate change? As rising tides threaten to flood islands, these questions become increasingly alarming and significant.
Boston native Mosher is an associate professor of digital media specializing in interaction design at the University of Central Florida.
He received a Bachelor of Fine Arts in Furniture Design from the Rhode Island School of Design in 2006 and a Master of Fine Arts in Intermedia from Arizona State University in 2012.
He creates intermedia artworks including public installations, performances and experiential systems that bridge the physical and digital worlds by mixing new media, sensing technology, relational aesthetics, computer programming, collaborative practice and traditional sculpture processes. Previously, he was also an Artist-in-Action for the Art and History (A&H) Museums located in Maitland.
To learn more about Mosher's work, visit his website.
In honor of Go to an Art Museum Day, on November 9, Nicholson News encourages an outing to a museum or exhibition. Here are a few suggestions:
Published November 1, 2021. Written by Iulia Popescu. Photo credits: Thomas Fuchs.
If you have any news, accomplishments or highlights about your work or life, please be sure to share them with us, by emailing us at nicholsonews@ucf.edu.