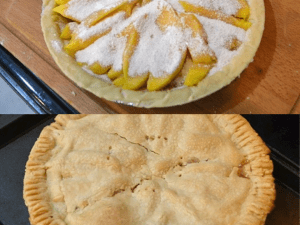 For the holidays coming up, here is a delicious recipe to enjoy and share with loved ones.
Tenured Nicholson School professor of journalism Kimberly Voss, Ph.D, was inspired to talk about a mango pie recipe she learned from a classic cookbook that was published nearly 50 years ago: Jane Nickerson's Florida Cookbook.
A lover of food history, women's studies and journalism history, Voss has written and talked extensively on these topics, even showing up on podcasts and receiving awards.
"This recipe is a comforting one," said Voss. "When Jane Nickerson (the first food editor at the New York Times – before she relocated to Florida) wrote this recipe in 1973, mangoes were considered an exotic fruit and she included it in a 'Lesser Known Fruits and Vegetables' section in her cookbook. She was a scholar of her adopted state. The recipe would also work well with peaches."
Mango Pie:
Pastry for a 2-crust pie (9 inch)
1 cup sugar
½ teaspoon cinnamon
¼ teaspoon nutmeg
2 tablespoon flour
3 ½ cups peeled, sliced, half-ripe mangoes
1 tablespoon lemon juice
1 tablespoon butter
Line a pie pan with the pastry. Chill. Chill pastry for the top pie crust also.
Preheat oven to 425 degrees.
Mix sugar, cinnamon, nutmeg and flour.
Arrange a layer of mangoes in the pastry shell. Sprinkle with some of the sugar mixture. Repeat layering fruit and sugar mixture until ingredients are used. Sprinkle with the lemon juice and butter. Cover with remaining pastry; make slits in the top.
Bake 10 minutes on the lowest rack in the oven. Reduce temperature to 350 degrees and bake 30 to 40 minutes longer, or until mangoes are tender (test by inserting a paring knife through a vent in the pastry). Remove and cool on a rack.
Variation: Substitute 1 cup ripe papaya slices for 1 cup mangoes. Increase the lemon juice to 2 tablespoons.
Published to Nicholson News by Iulia Popescu on December 1, 2021. Photos by Lance Speere.
If you have any news, accomplishments or highlights about your work or life, please be sure to share them with us, by emailing us at nicholsonews@ucf.edu.