Storytellers wanted. Make your feature film.
UCF's MFA in Feature Film Production is a three-year, graduate film production program that focuses on independent digital filmmaking. The Orlando-based program includes narrative, documentary, and experimental filmmaking. The thesis includes a feature film independently produced and distributed.
Watch Student Films
Flexible, Adaptable
The MFA program supports a flexible curriculum to foster student's creative vision and professional goals.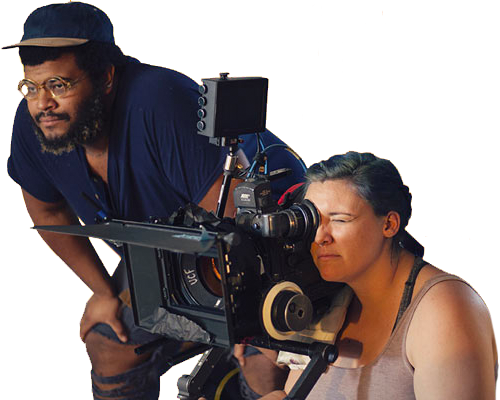 Top 5 Reasons to Come to UCF
Feature Film Thesis
Affordable & Flexible Curriculum
Industry-Grade Facilities & Faculty
Independent Film-Maker Model
Based in Orlando, One of the World's Entertainment Capitals
Alumni Spotlight
Emilia Garcia
Emilia Garcia is now the Film School Director at Universidad Catolica Santiago de Guayaquil in Ecuador, where she teaches filmmaking classes and oversees film school programs.  She graduated in 2013 after directing her feature film debut, The Decorruption.  Her film won three awards and screened in six film festivals.  You can watch a trailer for Emilia's thesis film here.
"The MFA prepared me to see microbudget filmmaking as a viable alternative, especially in the context of the Ecuadorian film market which I try to instill in my students." — Emilia Garcia
---
Julian Baner
Julian Baner's MFA thesis film Some Southern Waters made its world premiere at one of the South's most prestigious film festivals, the Fort Lauderdale International Film Festival.  Baner describes the film as "a black and white mystery/thriller about an aimless musician who spirals into the surreal after his girlfriend's death." Baner graduated in Spring of 2020 after serving as a graduate teaching associate and developing the UCF Film BFA's new course Directing Techniques. If you would like to see Baner's film in the virtual version of FLFF, click here. To read an exclusive interview with Julian Baner, written by Dara Anya, click here.
"UCF is the only school in the US that truly supports creating a feature-length film. It has been one of the greatest hands-on learning experiences I could have asked for. Feels like a lifetime's worth of learning in three years." — Julian Baner
---
Max Rousseau
Max Rousseau graduated UCF with a Digital Entrepreneurial Cinema MFA in Summer 2013. There, he produced his feature film, Pembroke Circle. In 2017, Rousseau moved to Boston where he currently works as Science Multimedia Coordinator at the Wyss Institute for Biologically Inspired Engineering at Harvard. "My job is to tell the stories behind the cutting-edge science and innovations through short documentaries, narratives and photos."
Rousseau has worked on projects that celebrate the extraordinary women at the Wyss Institute and that capture the Institute's creative and innovative spirit as faculty discuss how disruptive technology solutions can positively impact the world. Rousseau is currently working on the second installment to his piece that expresses the impact COVID is having on the Wyss Institute and how the Institute is fighting to assist healthcare workers and to make advancements on the vaccine. You can watch the first installment of this series here.
"My MFA at UCF helped develop my storytelling skills, resourcefulness, and work ethic; all have been critical assets in my current position." — Max Rousseau
About the MFA
The Emerging Media MFA – Feature Film Production is a terminal degree, the highest degree awarded to filmmakers or film artists. It is a highly selective and rigorous professional film production program for visual artists and film practitioners who demonstrate exceptional artistic and intellectual prowess, evidence of significant professional promise and a commitment to the expressive potential of digital filmmaking and the exploration of non-traditional modes of distribution. The MFA in Feature Film Production produces graduates with mastery of storytelling through the digital medium as it encourages the candidate to find his or her personal style. Entrepreneurial in spirit, the program emphasizes story, performance, aesthetic choice, business, and creative thinking. When participation is committed and complete, the program develops graduates who can compete in the worlds of national and international independent filmmaking.
While students may make a thesis film outside the narrative feature film model (i.e., an experimental or documentary film), all MFA candidates are required to take the core required courses that teach the customs and skills required of the narrative model. Upon completion of the degree, each student will have produced a microbudget digital feature film or long-form equivalent body of work and prepared a marketing strategy for its distribution and exhibition. The budgetary limitation is designed to encourage the student to move away from more traditional modes of production toward an approach that minimizes crew size, cast size, shooting time and production costs in favor of more careful planning, more personal filmmaking and more creative use of the means of production.

We welcome innovative approaches within the digital cinema paradigm that reimagine how new technologies can create alternative performances to exploit the tension between narrative and experimental storytelling, creating a new agency for actors and new expectations for audiences.
Documentary Film Contacts
Lisa Mills
Professor & Assistant Director
Experimental Film Contacts
Lisa Kritzer
Graduate Coordinator & Assistant Professor
---
Films by UCF faculty and students have screened at some of the world's most prestigious festivals. Visit Us
If you really want to get a sense of what we're all about, plan a campus visit. Visit with students, talk to faculty and tour our facilities. UCF is calling.