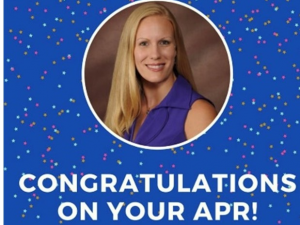 The February Faculty spotlight is on Lindsay Hudock, an associate instructor in the school's advertising/public relations program, who has set the bar even higher for herself by earning her Accreditation in Public Relations (APR).
The APR asserts professional competence, communicates professional expertise and dedication and reflects progressive public relations industry practices as well as high standards.
Hudock spoke on her thoughts about earning her APR – a mark of excellence in the industry that communicates professional expertise along with personal and professional dedication and values.
"Earning the designation means a lot to me," said Hudock. "It shows that I support and am invested in staying relevant in the field and embracing progressive public relations industry practices and high standards. This is important to me in how I conduct myself in the industry, but it's also important to me in how I train the next generation of public relations professionals here at UCF."
Hudock also shared what motivated her to earn her APR.
"I wanted to know I could master the challenge that earning it is, and I wanted to set an example for my students of always striving to be your best and operate at the highest professional standards," said Hudock. "The APR process is a lengthy one. Once you've earned your APR, you have to show a commitment to lifelong learning in that every three years you have to show how you've worked to stay relevant and current in the field to maintain your credential."
Although the process is a lengthy one, it allows truly committed professionals to set themselves apart and encourages to hold themselves to a higher standard.
Hudock received her bachelor's in advertising/public relations in 2003 and completed her master's in mass communication in 2005, both from the Nicholson School.
She is a member of the Orlando-area chapter of the Florida Public Relations Association and oversees Quotes, the award-winning Public Relations (PR) club at UCF. She was named a 2020 Public Relations Professional of the Year by the FPRA Orlando Area chapter, and was a recipient of a Teaching Incentive Program (TIP) Award in 2019.
Her two kids keep her busy, but when she has time for herself, she loves to read.
"My house is very nearly overrun with books," Hudock said. "I also spend a lot of my free time being involved with the Florida Public Relations Association where I serve on the state board as the VP of Annual Conference. I'm responsible for planning this year's annual conference of 300+ people which will be held here in Orlando in August of 2021. It's a four-day professional development opportunity that through the years has become something I look forward to each and every year. The chance to be a student again is such a cool thing. I'm honored to be responsible for planning this year's conference."
Hudock is also an active participant in many local nonprofits and community groups.
Hudock's role with Well Said Public Relations has allowed her to work with nonprofit organizations like Leadership Seminole, Kid's House, Boys Town of Central Florida, Safe House of Seminole, Intervention Services, The Sanford Zoo, The Rescue Outreach Mission, and many more.
She is passionate about using her public relations training and skills to further the mission of worthwhile organizations in her community as well as aspiring PR professionals.
Prior to joining the faculty of the Nicholson School, Hudock's career focused on writing, event planning, branding initiatives, community relations and volunteer coordination for primarily nonprofit organizations in the Seminole County area.
In 2007, she became a principal in Well Said Public Relations, LLC. The organization contracts with a diverse range of clients to provide services in event planning and on-site event coordination; writing promotional, advertising and marketing materials; copy editing and public relations consulting.
Once again, the Nicholson School congratulates Hudock on the achievement of earning her APR. Join us in congratulating her!
Published February 1, 2021. Written by Iulia Popescu.
If you have any news, accomplishments or highlights about your work or life, please be sure to share them with us, by emailing us at nicholsonews@ucf.edu.