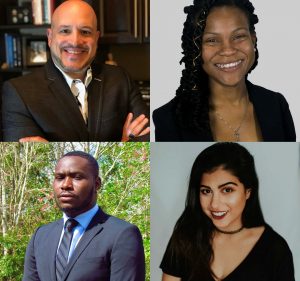 The newly founded Nicholson School of Communication and Media Student Ambassadors are well-rounded UCF students who excel academically while being actively involved in the campus life.
Their mission as ambassadors is to offer students guidance, as it can be easier and less intimidating for a new student to ask other students questions that they may have.
The inaugural cohort of student ambassadors comprised of Juan Aviles, Natalia Correa-Ferro, Dominic Davis and Sabrina Robinson.
"[The Student Ambassador Program] is meant to get students involved and encouraged to be more active as students in Nicholson, by getting students to make more connections, to network and to understand the full range of opportunities available to them," said NSCM Ambassador Sabrina Robinson.
Among Robinson's many accomplishments throughout her time in the program, she is proud to have created a book club to help bring students together.
Student Ambassador Juan Aviles was grateful to be able to practice and improve his own communication skills, through presentations at faculty and school meetings.
Aviles' biggest goal when becoming an ambassador was to ensure other Nicholson students had access to the ambassadors, to best support his colleagues.
"This role has really empowered me to be able to knock on doors that I didn't think we're open to me before," said Aviles. "I spent a long time trying to find my place in school, trying to find my role, who I was, and this ambassador role has really helped me be very confident and feel that I can go anywhere, that I can do anything."
Natalia Correa-Ferro worked on creating more leadership opportunities for students and having more representation available for Nicholson at meetings. Correa-Ferro and her fellow ambassadors established a charter to essentially set the program up for next year, as students return to classrooms.
"Being in Nicholson, I feel like we're all a small 4000+ student family and being in the ambassador program really showed that to me," said Correa-Ferro.
Dominic Davis recognized the importance of representation from the many communities that constitute the Nicholson School student body.
"I am a first-generation college student and I also wanted to be a representative," said Davis.
Ambassadors also represent UCF Downtown by providing appropriate information to current and incoming UCF students by tabling at events, information booths and outreach events – such as Market Wednesdays – in collaboration with UCF faculty and staff. They attend faculty and all school meetings so that they can stay connected and be privy to current happenings, trends and concerns.
The program first began with the Communication program area's Student Success Committee which was chaired by NSCM lecturer Adam Parrish, Ph.D. Now, visiting instructor Jorri Bright runs the Student Ambassador program alongside Instructor Jamie Vega, who was recently spotlighted in an article here.
"Our inaugural cohort worked really hard this year to create a foundation for future ambassadors," said Vega. And, Bright remarked, "the Student Ambassador program provides an opportunity for students to receive guidance from other students. We understand that when you have the availability of a peer, then you're more apt to speak to those students and ask for advice. Peer support is crucial to the success of our students."
Due to COVID-19, the ambassadors had to persevere through Zoom events. Although they were limited by the pandemic, they worked hard and created a basis for upcoming ambassadors.
With UCF returning to in-person classes in the fall, the incoming ambassadors will be able to have a more on-campus presence and enhance what the inaugural cohort started.
Watch a video from the inaugural cohort and learn more about the Student Ambassador program here.
Published June 1, 2021. Written by Iulia Popescu.
If you have any news, accomplishments or highlights about your work or life, please be sure to share them with us, by emailing us at nicholsonews@ucf.edu.