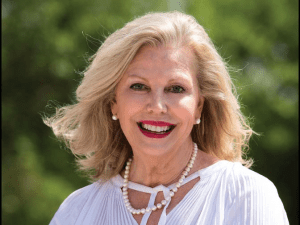 Central Florida Lifestyle Magazine, in partnership with AdventHealth for Women, highlighted some of the women in the Orlando community who are giving back to others while raising families, supporting their loved ones and building their careers.
Alongside those included was none other than Nicholson School benefactor Sonja Rose Nicholson. Originally from Alabama, Sonja Nicholson speaks in a soft southern accent. Her nurturing personality and passion for her community command the room.
Her love for philanthropy is evident with her name connected to investments in education at the Nicholson School of Communication and Media as well as in the health of the community at AdventHealth Winter Park's Nicholson Center.
Sonja Nicholson is married to Tony Nicholson, a 2018 honorary graduate of the University of Central Florida (UCF), and together the Nicholsons have long been involved with UCF. In 1996, they generously pledged a donation to the university, and in return, the university named the School of Communication and Media after them.
Among other achievements, Sonja Nicholson and her husband were previously inscribed into the Almanac of American Philanthropy, for their contribution to the Winter Park Memorial Hospital and its Nicholson Pavilion, amidst well-known names such as Ben Franklin, Oprah Winfrey and Elon Musk. She was also awarded with the John C. and Martha Hitt Honorary Alumni Award during the 2020 Shining Knight Awards.
Sonja Nicholson has made an immeasurable impact for which the Nicholson School is forever grateful.
"I want to make a positive impact on lives I touch, whether large or small," said Sonja Nicholson. "This includes my family, friends, our community and our country. I believe making a difference starts at home. I always feel you get back more than you give, when giving from the heart!"
She draws inspiration from other women such as her mother, sister, daughters and a few special friends. She learned to raise the bar for her life in every way, which for her includes loving God, holding family dear to her heart, being adventurous and never giving up on dreams.
"The biggest challenge I have faced was the death of my loved ones and the hardest part was learning to move forward," she said. "I learned life is short, to appreciate each day and to live life to its fullest!"
Published September 1, 2021. Written by Iulia Popescu. Based on this Central Florida Lifestyle article. Photo from Orlando Style Magazine.
If you have any news, accomplishments or highlights about your work or life, please be sure to share them with us, by emailing us at nicholsonews@ucf.edu.