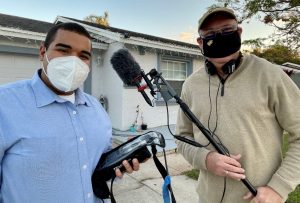 Journalism student Héctor García De León grew up watching the news with his mom and was inspired by the news stories delivered by local stations. That's when he decided he wanted to pursue broadcast journalism.
Years later, García De León was selected as the only UCF student to participate in National Public Radio (NPR) News' Next Generation Radio Florida Newsroom 2021, a prestigious training and reporting project.
The five-day project, held Jan. 3-8, gives competitively selected participants the opportunity to learn how to report and produce their own non-narrated audio piece and multimedia story.
Those chosen for the project are paired with a professional journalist who serves as their mentor for the week. This year, because of the pandemic, the project was conducted remotely over Zoom. Participants were scattered all over the state, the nation and the world.
García De León was paired with Gabriela Saldivia, who was once a mentee herself in the NextGenRadio project while she was in college and also worked with NPR for many years following that experience. Saldivia mentored García De León all while currently living in Spain and being six hours ahead!
"Working with Hector marked my sixth NextGenRadio project as a mentor and second time as a virtual mentor," said Saldivia. "It was so gratifying seeing Hector pursue his story. He clearly had a passion about the story coming in and I was excited too. After the first day of working with him, it was obvious that he is meant to be a journalist and like all good mentee/mentor relationships, I learned a lot from him that week too. I am so proud of him and how the story turned out."
García De León spoke on his experience with NPR's Next Generation Radio, stating that it was one of a kind.
"I was able to learn different aspects of journalism, such as audio storytelling, digital writing and working with software like Adobe Photoshop, Adobe Audition and WordPress – all within a week," said García De León. "I'm so grateful to have been chosen for the week-long training program because it prepared me for a career in a fast-paced environment."
Senior Instructor Richard Brunson also served as an adviser. This was Brunson's second year representing UCF in the program.
"This year, our reporting team fanned out across Florida to report how people are surviving and thriving amid the Covid-19 pandemic," Brunson said.
The project focused heavily on marginalized individuals who have been adversely impacted by the pandemic, such as farm workers and small-business owners.
García De León's work specifically centered on Barbara Liz-Cepeda, who refused to let the pandemic stop her from running her Puerto Rican cultural arts school.
Click here to read, listen to and see García De León's project with NPR News' NextGenRadio Florida Newsroom.
"The most difficult part of the experience was trying to produce a high-quality and amazing piece of work within a matter of days," said García De León. "With NextGen, you only had a couple of days to produce, edit and perfect everything – and have it to NPR's standards. But it taught us that we're capable of doing anything you set your mind to. The most rewarding part of the experience was celebrating the final product over Zoom. I had the honor of having friends, family and professors attend the Zoom presentation to support me and see the work I produced, and nothing made me prouder or more supported."
García De León also said that besides the recognition and celebration, the experience gave him a network of professionals to connect with from virtually across the country.
He is set to graduate this semester, Spring 2021. He loves to travel, play volleyball and is currently the president of the Gospel and Cultural Choir at UCF.
"I enjoy working in digital media and I would love the opportunity to perfect my craft in video production and storytelling," said García De León.
García De León's work with NextGenRadio has given him a competitive edge.
He's not the first student to have been selected for this prestigious program. In 2019, journalism students Lillian Hernández Caraballo, Monica Sealey and Nelly Ontiveros were selected as NextGenRadio trainees. You can read more about that here.
In the future, García De León aspires to work in the entertainment media industry. He is currently a digital intern with NBC4 and Telemundo 44 in Washington, D.C., but is working remotely.
Published March 1, 2021. Written by Iulia Popescu.
If you have any news, accomplishments or highlights about your work or life, please be sure to share them with us, by emailing us at nicholsonews@ucf.edu.