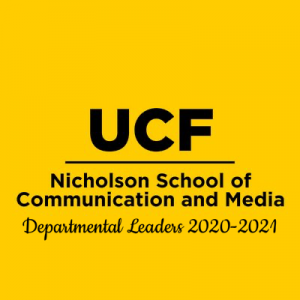 The Nicholson School of Communication & Media departmental leaders of the 2020-2021 academic year have been identified. All three were re-appointed from last year.
Deanna Sellnow, Ph.D., in the Department of Communication; William Kinnally, Ph.D., in the Department of Film and the Mass Media and Natalie Underberg-Goode, Ph.D., in the Department of Games and Interactive Media, have re-taken their positions as departmental leaders.
Their significant contributions, faculty endorsement and willingness to continue as departmental leaders were key factors in their re-appointments.
Sellnow is a professor of communication, assistant director of the Department of Communication and researcher in the Nicholson School. One of her most recent achievements within UCF was being bestowed the UCF Luminary award for her contributions to risk and crisis communication, which was recently highlighted in a previous article.
Kinnally is an associate professor and assistant director of the Department of Film and Mass Media. His research interests include how news presentations affect our understandings of issues and how and why we enjoy media entertainment.
Underberg-Goode is a professor of digital media and folklore at UCF. She has been involved with a multitude of endeavors, including being inducted into the Scroll & Quill Society at UCF for her work in helping to preserve folklores and histories through the Portal to Peru website, which was previously reported on here.
All three will now hold the administrative title of assistant director. The use of "interim" for these leaders is removed for the 2020-2021 appointments because UCF allows that status for only one year.
"It's a privilege to serve in this position because the faculty and staff in the Department of Film and Mass Media are among the best," Kinnally said. "As a result, students in each program are involved in creating impressive entertaining, informative and artistic media that is on display through many different outlets. So, having another year to serve in this position means I'll have another chance to get better at helping them continue their success and continue to grow."
The Nicholson School is grateful to these individuals for stepping into these leadership positions.
Published May 1, 2020. Written by Iulia Popescu.
If you have any news, accomplishments or highlights about your work or life, please be sure to share them with us, by emailing us at nicholsonews@ucf.edu.