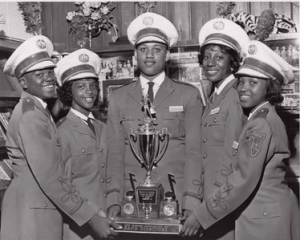 Don't miss out on a free screening of the UCF film "Marching Forward" on Saturday, September 21, which tells a powerful story of segregated Orlando. The film touches on the nuances of race relations in Orlando during the latter days of Jim Crow and how a love for music united two bands from two schools.
"Marching Forward" specifically shows the history that revolved around two dedicated high school band directors – James Wilson, the African-American bandleader at Jones High School, and Delbert Kieffner, the white bandleader at Edgewater High School – who were inspired by music to cross color lines in the Deep South.
To view the trailer, click here.
"I think knowing the history of your community can always make you feel more connected to where you're living," Ben Brotemarkle, executive director of the Florida Historical Society, said about the importance of this moving film, in a previous article.
The documentary is the fourth that associate professor of history Robert Cassanello and associate professor of film Lisa Mills have made in the past decade along with students in their Honors Advanced Documentary Workshop class.
"Marching Forward," which recently became a recipient of the Atman Award for Diversity in Film, will be screened for free at the Global Peace Film Festival on Saturday, September 21 at 3:00 P.M. It will be held in Tiedtke Hall at Rollins College.
Tickets are required for this event so save a seat for free here! Click on Saturday on the schedule and "Marching Forward" should pop up during the 3:00 P.M. time slot.
To learn more about the Global Peace Film Festival and its other showings, check out their main website.
This article was written by Iulia Popescu.