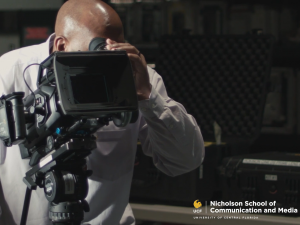 The previous Entrepreneurial Digital Cinema Track has been given a new name – the Feature Film Production Track. With this new name, come some changes.
NSCM's graduate film program has always been a visionary, leading the way in feature film production, but the track's name now better reflects that.
Lisa Mills, Ph.D., associate professor and film graduate program coordinator, reminisces the program's beginnings.
"When we started the MFA in feature film production in 2004, we were the only film graduate school in the nation where students did a feature length thesis film," said Mills.
Students in the program pursue a modality – narrative, documentary, or experimental – for their thesis film during their first two semesters in the program.
As of 2018, the track moved from being part of the School of Visual Arts and Design to under the Nicholson School. It now focuses more heavily on film-oriented classes.
Sarah Kambe Holland described her experience with the program. She was among the UCF students who won big for their films at the second annual Vibrant Media Productions Film Festival.
"When I examined my long-term goals of working as a film director, I knew that creating a feature film without any support would take years and years of work," said Holland. "As a student in the graduate program, I have access to high quality equipment and facilities. The curriculum is also designed to help students budget wisely and cut out unnecessary expenses, which are valuable skills for up and coming indie filmmakers."
Within the program, there are still possibilities of exploration into subjects like art and digital media through electives, but the degree has re-focused to further pinpoint the microbudget film.
Kelsey Loftus, graduate admissions specialist, talked about how the customization of the degree through electives is helpful to students as they can pursue other interests while working towards their feature film.
"My favorite part about the MFA Feature Film Production program is the ability for each student to customize their degree," Loftus said.  "Students can take electives from all different areas, giving them the opportunity to get exactly what they are looking for to aid in the creation of their feature films. Another key feature is the small cohort size. This allows students to have more direct, hands-on mentoring and guidance from our esteemed graduate film faculty."
While there were a few changes, the vision remains the same. This affordable and flexible curriculum is there to help make the dreams of film students come true.
"If you've been making short films and have always dreamed of making a feature film, this program will give you instruction and the resources to make it," said Mills. "It's a terminal degree, the highest degree awarded to filmmakers or film artists, which also qualifies you to teach."
Feature films are much more marketable and likely to get a distribution deal, so this key feature of producing microbudget feature films distinguishes UCF's film program from many others.
"The MFA is a rigorous program that prepares students for a career as a filmmaker," professor Philip Peters said. "Feature length filmmaking is a difficult undertaking and our students consistently meet the challenges thrown at them. Our students' work has won awards and their films are shown at festivals both nationally and internationally. We are very proud of them and of their accomplishments."
Even under COVID-19 restrictions, graduate students are moving forward to shoot films in summer of 2021, under COVID safety guidelines.
The program has more than doubled their completed applications for this fall and is now accepting applications for Fall 2021.
Come be a part of the future of filmmaking! To be eligible for funding opportunities, apply by January 15, 2021.
For more information on the Feature Film Production MFA, click here.
Published October 1, 2020. Written by Iulia Popescu.
If you have any news, accomplishments or highlights about your work or life, please be sure to share them with us, by emailing us at nicholsonews@ucf.edu.