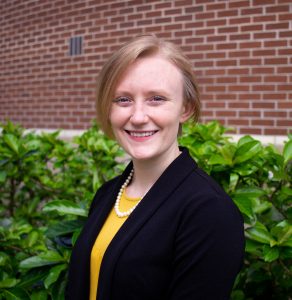 In the fall of 2019, the Nicholson School of Communication and Media welcomed its first Ph.D. cohort, specializing in strategic communication. The program, which offers public-communication strategies on issues such as preparedness for natural disasters, disease management and other areas of focus, was the solution to effectively counter rumor, misinformation and fear during risks and crises.
This program prepares its graduates for the best practices in the field of crisis, risk and health communication.
Students of all backgrounds have joined the Ph.D. program, with an interest in excelling and preparing themselves to be experts. Lakelyn Taylor is one of the students who kicked off the program in 2019, having graduated a semester prior from the communication M.A.
During her time at Nicholson, Taylor has taught three classes — fundamentals of oral communication, advanced public speaking and persuasion in communication, and will soon be teaching principles in health communication. She also has been accepted into local, regional, national and international conferences.
Taylor, born and raised in Long Beach, Mississippi, strongly believes that her faith brought her to the University of Central Florida to acquire her M.A. and now her Ph.D. The importance Taylor places on religion extends to her academic and research work, where her focuses are religious communication, communication and ethics and risk and crisis communication.
Taylor spoke about her faith, her research background and her goals, professionally.
What's the background of your research?
I am a mixed-methodologist and I mostly do research analyzing the intersection between risk and crisis communication, instructional communication, religious communication and ethics. I am currently studying faith-based messages about COVID-19, perceptions about hurricane alert warning messages and the ethics of online public commentary in eRulemaking. My master's thesis was titled "The Religious Classroom: Analyzing the Cross-Application of Instructional Communication Pedagogy to Youth Ministries." It was primarily about the instructional messages delivered by high school youth ministers and prior student perceptions of those messages.
My primary concern for all of my research is to make it practical. I want my research to help people and hopefully make things better.
What has been an impactful moment of your journey that has helped you grow?
It's hard to determine one moment of impact. You're growing so much incrementally, you almost don't even realize it until you look back and realize how far you've come. Plus, I've grown through my contact with my cohort and faculty. There's a Bible verse that says, "As iron sharpens iron, so one man sharpens another." I feel this Scripture is true of my journey. I would not have been able to grow as much as I have without being able to lean on and collaborate with everyone in my department. They all have pushed me and encouraged me and have refined my skills in beneficial ways. So, it really isn't just one moment. It's all of the little moments which have been interwoven together which have helped me grow the most.
Which accomplishments have you reached? (Conferences, proceedings, research publications, teaching milestones, etc.)
Research-wise, I have been accepted to conferences at the local, regional, national and international levels. I hold leadership positions in the Florida Communication Association and the Southern States Communication Association. I also review for most of these conferences and a few journals. I have three research projects published in international conference proceedings, one article published in the Florida Journal of Communication, and one book review published in the International Journal of Communication. I currently have a book review and four articles under review for publication right now.
On the teaching front, I have taught three different classes (fundamentals of oral communication, advanced public speaking, and persuasion in communication) and will be adding a fourth (principles in health communication) next semester. I received the Nicholson School of Communication and Media Award for Outstanding Graduate Student Teaching last spring (2020).
What has been your favorite class(es)?
It's hard to choose! I've learned so much and grown a lot as a scholar from all the classes I have taken. I guess if I had to choose, my top three would be (in no particular order) Instructional Communication in Strategic Contexts, Strategic Communication, and Studies in Intercultural Communication. My honorary mention goes to Communication Management.
What made you choose the Nicholson Ph.D. program over other schools?
I chose the Nicholson Ph.D. program primarily because I felt it was where God wanted me. I applied when I wasn't quite sure if I wanted to get a Ph.D. but felt confident in the scholarship and mentorship of the professors in the department. Strategic communication is exactly what I wanted to study and knew the specificity of this program would best prepare me for achieving my goals in comparison to programs where strategic communication is not as big of a focus. When I received my acceptance to Nicholson's program, I was praying a lot about it and God seemed to open a lot of doors for me and gave me peace as I accepted my admission.
What are your goals job-wise?
My top goal for my future career is to be of service to others while also giving glory to God. I do not necessarily have a specific career in mind or some position I am trying to achieve. I am equally as interested in remaining in higher education as I am working in the industry. My main goal right now is to remain flexible and to remind myself at the end of the day, it's people who matter more than any career.
What advice do you have for people looking into the Communication masters or Strategic Communication Ph.D. program?
Determine what you want in a faculty and what you hope to gain from your program, then choose the one you feel best fits those goals. I would also encourage anyone looking into a Ph.D. program to go somewhere with a cohort and faculty they feel will positively support them in all their endeavors. It's not just about finding a prestigious program but discovering one which places value on them as a whole human being.
Taylor has excelled through both her M.A. and her first year of her Ph.D. She was recently announced a UCF Trustees Doctoral Fellow — the highest fellowship awarded to superior graduate students who are newly enrolling at UCF in one of its doctoral programs or tracks. Kudos, Taylor!
Anyone interested in learning more about the Ph.D. program can visit here or reach out to Kelsey Loftus, Nicholson's graduate admissions specialist, at NicholsonGrad@ucf.edu.
Published on November 2, 2020. Written by Victor Martinez-Rivera.
If you have any news, accomplishments or highlights about your work or life, please be sure to share them with us, by emailing us at nicholsonews@ucf.edu.