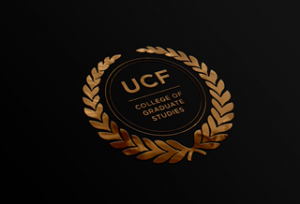 Each year, the Nicholson School of Communication and Media (NSCM) recognizes graduate students who strive for academic and professional excellence.
Various Nicholson graduate students received awards for their sedulous research and teaching. Recipients included students America Edwards, Aaron Scott, Lakelyn Taylor, Eve Heffron and Julian Baner.
Communication student America Edwards obtained the revered Meeske Graduate Student of the Year award. This award recognizes a student who has demonstrated exceptional academic and scholarship contributions to the communication MA program.
Edwards initially graduated with a bachelor's degree in human communication and a minor in social psychology. She then received her master's degree in communication from the University of Central Florida (UCF) in Spring 2020.
During her time at UCF, Edwards helped with two journals edited by NSCM faculty. She conducted as much research as possible with as many faculty members as possible – while teaching several public speaking courses on top of it all.
Edwards' thesis on biosecurity, led by Timothy Sellnow, Ph.D., also won the Top Student Paper in the Instructional and Developmental Communication Division at the International Communication Association's annual convention.
"My time in the department of communication equipped me to aim high when it came to selecting next steps," said Edwards. "I was able to participate in so many different avenues of the academy and this only reinforced my desire to become a professor."
Edwards is now in the doctoral program of communication at the University of California Santa Barbara.
Another award, the Award for Excellence in Graduate Student Research, went to communication graduate student Aaron Scott for his outstanding work. This award focuses on both the quality and quantity of the research projects completed, presented, or published by the student.
Scott is an incredibly diligent student and many of his previous accomplishments can be found in an article here. His research at UCF mainly focuses on mental health and social issues.
"[I focus on] things that I feel really affect my friends and I," said Scott. "Especially the issues that have some sort of stigma surrounding them. A few of my most recent research topics include the UCF Let's Be Clear sexual assault campaign, the mental health effects of celebrity drug overdoses on fans and the humanitarian issues of the Hong Kong protests."
While he says the graduate program is rigorous, his friends and family helped him persevere.
"I believe I have had some success, but that came only after all of my failures that you will probably never hear about," said Scott. "For anyone struggling, I've been there too. Without my friends and family, I wouldn't even have the opportunity to speak of this accomplishment, so I really want to express how much I love and appreciate them."
Student Eve Heffron received her B.A. in international and global studies and her M.A. in communication from the University of Central Florida. She was the first in her family to go to graduate school.
Heffron's hard work at UCF led to her receiving the Outstanding Master's Thesis Award for her thesis titled "Nike's Corporate Social Advocacy (CSA) Practices as Related to Strategic Issues Management (SIM) and Threats to Organizational Legitimacy." She worked under Melissa D. Dodd, Ph.D., Nan Yu, Ph.D. and Patric Spence, Ph.D.
The focus of this award is on the quality and contribution of the student's thesis research.
"My mentor, Dr. Melissa Dodd, piqued my curiosity by introducing me to various forms of research and allowing me to participate which helped guide my research interests for years to come," said Heffron. "Participating as a graduate research assistant with Dr. Harry Weger, also expanded my understanding of research. These are just a few of the many faculty at NSCM that had a major impact on my future by encouraging me to engage in research, which ultimately influenced my decision to pursue a doctoral degree."
Participants in Heffron's research were randomly exposed to Nike's actions related to the Black Lives Matter (BLM) movement via mock-online news articles. Results indicated that positive attitudes significantly increased when Nike implemented an action step after taking a public stance on a controversial social-political issue.
Heffron is now currently a second-year doctoral student in the Department of Public Relations at the University of Florida.
Lakelyn Taylor, a second year NSCM Ph.D. student, is majoring in strategic communication and set to graduate Spring 2023. She was given the Award for Excellence in Graduate Student Teaching.
This award is for students who serve as instructors of record and have independent classroom responsibilities.
Taylor has been teaching as an individual instructor of record in NSCM for the past three years, in a variety of classes including fundamentals of oral communication, advanced public speaking and persuasion.
"My teaching is all about making the students co-collaborators in their own learning and attending to them as whole human beings made up of mind, body, spirit and emotion," Taylor said. "Most of what I teach is on the Internet, but I'm there to foster their critical thinking and reveal how much potential they have as people in the world."
MFA film graduate Julian Baner was awarded the Outstanding Graduate Student Research/Creative Activity Award.
His thesis project was a feature-length film that he wrote, directed and produced called "Some Southern Waters."
"I decided to pursue my master's at UCF because it is the only school in the US that truly supports creating a feature-length film," said Baner. "It has been one of the greatest hands-on learning experiences I could have asked for. Feels like a lifetime's worth of learning in three years."
NSCM's graduate film program – the Feature Film Production Track – has always been a visionary, leading the way in feature film production. Read up more on the program here.
NSCM wants to congratulate these students for their efforts.
For more information on all of the classes listed, check out this page.
Published October 1, 2020. Written by Iulia Popescu.
If you have any news, accomplishments or highlights about your work or life, please be sure to share them with us, by emailing us at nicholsonews@ucf.edu.