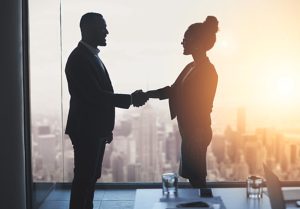 Effective August 8, the following faculty will be promoted in recognition of the hard work and dedication they devote to the Nicholson school and the students under their guidance. These past few years have been stressful on students, staff and faculty alike, and in spite of the pressures these faculty rose to the occasion.
In the Film and Mass Media Program, Zachary Beckler and Katherine Shults were both promoted.
Zachary Beckler has been promoted to the rank of Associate Lecturer. Beckler is an award-winning filmmaker specializing in narrative genre cinema as well as digital post-production and sound design. He received his Master of Fine Arts in Film from the University of Central Florida in 2014. His short films have screened at festivals around the world, including Fantastic Fest, Florida Film Festival, Imagine: Amsterdam Fantastic Film Festival and Dead by Dawn Scotland International Film Festival.
Katherine Shults was promoted to Associate Lecturer. Shults has produced exhibitions and curated video content in Central Florida since she herself was a student at UCF. She received her Bachelor of Fine Arts in Film as well as her Master of Fine Arts in Film from UCF. She has also programmed for the Starlite Film Festival, Surfaces, Sunspot Cinema and the Florida Film Festival.
In the Games and Interactive Media Program, Maria C.R. Harrington, Ph.D., and Daniel Novatnak were both promoted.
Maria C.R. Harrington, Ph.D., has been promoted to the rank of Associate Professor. She is an American information scientist and artist. Research focus is on aesthetics in the perceptual ambient array and information science theory as it relates to beauty found in natural environments. Her work in creating The Harrington Lab at UCF investigates virtual nature, using AR and VR as a technical artifact, to better understand perceptual phenomenon as it relates to human-computing-environment interactions that cause emotional, learning, and aesthetic outcomes. Find her publications on Google Scholar and ResearchGate.
Daniel V. Novatnak was promoted to the rank of Associate Instructor. A pioneer in emerging technology, Novatnak joined the School of Film and Digital Media in 2005. Since 2008, Novatnak has been a full-time faculty member professing web and game design, production as well as other aspects of media development to undergraduate students. Novatnak encourages students to become engaged members of society by fostering the value of their own creativity, flexibility in their application of technology and using novel ways to demonstrate their knowledge in their field of study.
In the Florida Interactive Entertainment Academy (FIEA), Richard Grula and Ron Weaver were both promoted.
Richard Grula was promoted to the rank of Senior Instructor. In 2006, Rich earned an MS in Digital Media / Interactive Entertainment as a member of the first graduating class from FIEA. In 2008, Rich joined FIEA fulltime to serve as Studio Director of the motion capture and sound stages and teach audio production, while continuing to teach graduate and undergrad courses at UCF FILM.
Ron Weaver has been promoted to the rank of Associate Lecturer. Since 2001, Weaver has been a game programmer and designer when he began working on Toontown Online for Walt Disney Imagineering. After graduating with bachelor's degrees in computer science and religion, with a dance minor, from Emory University, Weaver earned his master's degree in Entertainment Technology from Carnegie Mellon's Entertainment Technology Center.
In the Communication Program, Renata Kolodziej-Smith, Ph.D, and Nan Yu, Ph.D., have been promoted.
Renata Kolodziej-Smith, Ph.D, will now be an Associate Lecturer. A native of Poland, Kolodziej-Smith joined the faculty in 2015. She completed her Ph.D. at Wayne State University, where she also received her master's degree in 2001. She also holds bachelor and master's degree from University of Warsaw in Poland. Additionally, she has business experience in the advertising and marketing field. Her teaching and research interests include organizational, small group and intercultural communication.
Nan Yu, Ph.D., has been promoted to the rank of Professor. She joined NSCM in 2017 after she received her bachelor degree from Peking University in her hometown of Beijing, China, her master's degree from E.W. Scripps School of Journalism at Ohio University and her Ph.D. from Penn State University. Yu's research focuses on health communication and communication technology with an emphasis on health promotion using digital technologies and health messages tailored to specific audience members.
"It is satisfying when faculty are recognized and rewarded for their excellence and contributions to NSCM, UCF, and the professional community," said Robert Littlefield, Director of NSCM. "I am proud to be associated with these faculty and will continue to support them as they seek ways to impact the lives of their students and the university where they work."
The Nicholson School thanks these and all faculty members for the significant contributions they have made to their discipline and to the university.
Published May 2, 2022. Written by Iulia Popescu.
If you have any news, accomplishments or highlights about your work or life, please be sure to share them with us, by emailing us at nicholsonews@ucf.edu.