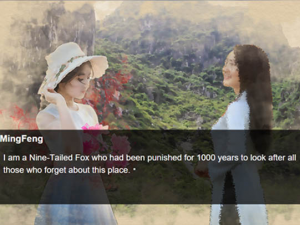 Natalie Underberg-Goode, Ph.D., has a love and respect for storytelling, folklore and above all, culture.
With studies ranging from a bachelor's degree in Sociocultural Anthropology from the University of California, Berkeley to a Ph.D. in Folklore from Indiana University, Underberg-Goode now incorporates her love of storytelling with digital media.
"My grandma's mom was from Czechoslovakia, now Slovakia, so growing up we had family stories like how the family came to America, and special foods that we made, so I always had an appreciation for traditions," Underberg-Goode said. "I didn't realize that was a career at first, but I was always interested in stories and culture too as I wanted to understand the history and heritage behind the stories. Digital media is a new toolkit for telling and understanding these stories."
Underberg-Goode works in the Games and Interactive Media program and her research typically examines the use of digital media to preserve and disseminate folklore and cultural heritage, with a focus on digital storytelling and participatory new media design and practice.
Underberg-Goode's latest projects have included publishing an article in the journal Storytelling, Self, Society with Digital Media MA student Alex Boyd as well as securing her next book contract on transmedia storytelling.
Transmedia storytelling is the technique of telling a story across multiple platforms and formats using current digital technologies.
The article that Underberg-Goode worked on with Boyd is entitled "The Life/Ways Project: Self-Expression through Digital and Interactive Storytelling", and was based on a UCF funded grant project received with Lisa Roney.
During the project, students created visual novels through a user-friendly software called TyranoBuilder, where they told stories about their lives, mixing fact and fiction, inspired by the concept of branching narratives.
Digital Media master's student Boyd, who is expected to graduate in the spring of 2021, participated in a three-day workshop alongside Underberg-Goode to help the students. Additionally, Boyd was hired to mentor the students in a 3-week period after the workshop.
"The students did an excellent job of adapting their personal stories into the digital format," said Boyd. "Each of them incorporated pivotal moments of choice in their projects, where they could explore the possibilities of how their lives would be different based on their decisions. One project that stood out to me was from an English major who repurposed one of their poems into the interactive story format. The result was really striking and enjoyable to interact with."
The article Boyd worked on with Underberg-Goode based on this project was his first published article, and he is very thankful for the opportunity. Boyd has also been fortunate enough to have one of his e-lit projects called "Project-trail" recently featured in the fall.
Underberg-Goode, who first taught transmedia story creation in 2006, also secured her next book contract with Routledge on transmedia storytelling, titled "Multiplicity and Cultural Representation in Transmedia Storytelling: Superhero Narratives."
"Multiplicity and Cultural Representation in Transmedia Storytelling: Superhero Narratives" will explore the relationship between multiplicity and representation of non-European and European-American cultures, with a focus on comics and superheroes.
The book will employ a combination of research methodologies, including close reading of transmedia texts, and ethnographic research with transmedia storytellers and audiences, to better understand the way in which diverse cultures are employed as agents of multiplicity in transmedia narratives.
"I'm really interested in both what big franchises do with stories, in terms of using different cultures as creative sources of materials and then also how more indie creators or independent creators create their own representations that may be different or even a response to how a given group has been portrayed in these larger, commercial franchises," explained Underberg-Goode.
In her book, she will look at how big franchises, such as Black Panther and Disney, misrepresent culture and how indie or independent comic creators may use cultural heritage in a distinctive way.
While this won't be the first time she's taking on a book publishing, it will be her first solo-authored scholarly book.
To learn more about Underberg-Goode and her work, check out her biography on the NSCM Faculty and Research page.
For more information on the Digital Media MA program, click here.
Published November 2, 2020. Written by Iulia Popescu.
Picture used is a screenshot from Kellie Driscoll's Life/Ways project, shown at UCF Celebrates the Arts.
If you have any news, accomplishments or highlights about your work or life, please be sure to share them with us, by emailing us at nicholsonews@ucf.edu.