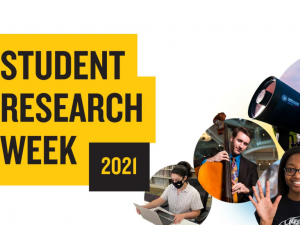 UCF's Student Research Week celebrates the work of UCF students at all stages of their research journey. Hundreds of undergraduate and graduate students participated in Research Week, where events took place virtually this year from March 29 – April 2.
During these three days, undergraduate and graduate students presented their research projects at online poster sessions during the Student Scholar Symposium. More than 50 judges reviewed presentations from over 550 students this year.
Meet two of the Nicholson students who are making an impact with their research – Vincent Marcucci and Sarah Finley.
During Student Research Week, film and environmental studies major Marcucci presented "Tales of Sunshine: Short Film Series Documenting Diverse Florida Conservationists and Their Lives During COVID-19," under mentor Lisa Peterson.
"Tales of Sunshine" is the title of Marcucci's four-part docuseries that follows the lives of an education team member of the Coalition of Immokalee Workers, a professional mermaid, a recreational fisherman and a UCF conservation biologist.
As producer, writer and interviewer, Marcucci uses film as a medium for presenting topics such as issues surrounding access to water, fishing regulations and treatment of farmers.
Marcucci believes that sharing these stories will help demonstrate the link between our environment and ourselves as we are vital components of our ecosystems.
Marcucci is devoted to sharing not only the data and the important research being generated but also the multifaceted nature of the person behind the research, why they care about what they're discussing and how they live out their passion.
In the future, he intends to travel and continue his efforts as a freelance videographer and filmmaker in the nonprofit sector working with socially and environmentally ethical organizations.
"I know there are many more stories to tell and much more research to be done," Marcucci said. "And I have loved hearing so many interesting and profound stories which are impacting conservation in Florida."
Marcucci was awarded a $1,800 student grant from the Office of Undergraduate Research to develop four more episodes with the help of a team of researchers, student filmmakers and marketing students. The Wildlife Conservation Film Festival has also given financial support as an executive producer on the documentary film series.
"Tales of Sunshine" is projected to come out in December of 2021 and their progress can be followed on Facebook and Instagram @talesofsunshinefilm.
The series would not have been possible without the help of his many teammates especially production managers Kelly Saenz, Christopher Shick, Kristen Gallo and his faculty mentor, newly promoted senior instructor Lisa Peterson.
"It's a win-win when students can collaborate on a project, especially one as important as this one," said Peterson. "Vince is passionate and skilled when it comes to using film making as a tool to enact positive change for the environment. I urge all my film students to look into applying for a grant from the Office of Undergraduate Research to help fund their work. It's one of our best resources for students here at UCF. It gives their work the edge that will help them stand out in the crowd."
Meanwhile, Nicholson student Finley presented "Conflicts and Communication in Virtual Education for Gifted Students," during Student Research Week under mentors Jim McCafferty, Ph.D., and Adam Parrish, Ph.D.
She is a senior majoring in communications and conflict and will be graduating this spring as part of the Honors in the Major program.
Finley was interested in seeing the COVID pandemic's effect on the virtual education of students, throughout different age groups and abilities, to perceive if the school system was prepared enough and provided adequate accommodations for students.
"Since the new wave of the 2020 pandemic, schools have moved to blending or offering both virtual and face-to-face models," said Finley. "The ramifications of the expedited transition to virtual overnight left millions of students with various learning needs helpless. However, this shift encompasses technology, which could lead to a range of benefits to non-disabled students and those with disabilities. Innovation to modern technology can build the educational system with tremendous amounts of opportunities in which every student is provided access and accommodations based on his or her individualized learning style(s)."
Finley researched and studied various topics ranging from the Individuals with Disabilities Education Act (IDEA Act) to the history of education, even in-depth studies on Piaget's Theory of Cognitive Developments.
Additionally, to gain more information for her research, she followed news reports of feedback from parents, teachers and students, reactions from moms in Facebook groups and read reports from officials of public schools.
After receiving Institutional Review Board (IRB) approval, she personally interviewed both K-12 teachers and parents of gifted and non-gifted students for personal feedback on virtual or online education a year since the commencement of COVID-19's pandemic.
Finley's study showed that some students are better in virtual education than others – but age surprisingly had little to do with it.
This transition has proven virtual education is possible and can remain an option for public school systems. It also encourages the Florida Department of Education (FLDOE) to analyze budgeting to allow the continuance of virtual learning – both in and outside the classroom.
"Virtual is different versus in-person, be that as it may, UCF, a Division of Student Learning and Academic Success and the College of Graduate Studies did a remarkable job with the transition for the well-recognized event to be possible," said Finley.
Due to the success of her research, Finley was accepted into the communication graduate program come August 2021.
"I plan to pursue further studies involving students – both postgraduate and current high school seniors and juniors to hear their personal feedback, suggestions and conceptualize the effects on their personal enrichment and academic studies caused by the pandemic," said Finley. "As my research becomes more in-depth, I wish to write letters to my local senators and congress[wo]men, the state legislature, Madam Vice President and Nations First Lady in regard to education reform, transitioning to a more 'digital' world and greater options for virtual learning based on significant data from these research studies."
Outside of school, Finley operates a small business making bath and body products as well as other home products and is a single mother to a gifted preschooler.
"I wish to be a paragon to my daughter that dreams do come true, no matter how much hurt you've endured," said Finley. "I just want to be a good role model for my daughter, showing her that no matter what happens in your life – the good, the bad and the ugly – you can always come back and reach for the stars!"
UCF student Shreya Atmakuri also presented "An Investigation into Provider Communication at UCF and the Impact of Health Literacy on Teach-Back Outcomes." Although she is not a Nicholson student, she did her research under mentor Ann Miller, Ph.D., professor for the Nicholson School.
From March 29 – April 2, these students and many more from all across the campus came together for Research Week.
During the week, there was a kick-off event featuring Planetary Scientist and Pegasus Professor Joshua Colwell, Ph.D., several workshops of speakers and a student research symposium.
"As a student presenter in the student research symposium, I'll admit I was nervous explaining my research to the judge," said Finley. "We are presenting our pride and joy – our research is our baby for the last year or two or three – on top of competing for scholarships and fellowships. I also learned about other student's research within and outside my expertise and there were some remarkable studies that I hope the students continue onward into graduate school."
UCF President Alexander N. Cartwright addressed the importance of research and creative works to society during Student Research Week. He believes student researchers can provide unique perspectives and abilities.
"We're always happy to help guide people as they learn and go along that path of discovery," Cartwright said. "It's amazing to see the passion that comes out, the ability and the desire to want to make a mark on the world."
To find out more about Research Week and the work of undergraduate and graduate students, click here.
Published May 1, 2021. Written by Iulia Popescu. Photo courtesy of UCF's College of Graduate Studies.
If you have any news, accomplishments or highlights about your work or life, please be sure to share them with us, by emailing us at nicholsonews@ucf.edu.