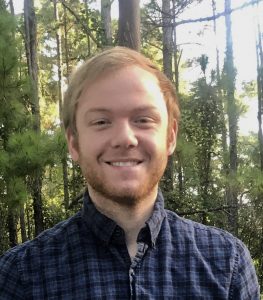 "The Fabricated Wild," a film created by NSCM film visiting lecturer Nicholas Twardus, premiered at the Dobra International Experimental Film Festival in Rio De Janeiro, Brazil from September 8 to October 4. He represented the Nicholson School's Film program in this premiere.
"I was honored to be selected for this festival out of thousands of submissions," said Twardus.
Twardus first heard about the Dobra International Experimental Film Festival on a website called expcinema.org, which is a great resource for experimental filmmakers. The site contains notable screenings and exhibitions that take place around the world.
Most importantly, the site is a place for film festivals to post "calls for submissions" to interested experimental filmmakers, such as Twardus.
"The Fabricated Wild," explores the intersections between the natural and artificial within the Florida wilderness using personal film-making technology. The natural Florida landscape is foregrounded in the frame and communicates how cinema fabricates the expansive wilderness.
"During my research, I discovered that many paintings and films that depict the natural environment sometimes do so without acknowledging the history of the space," said Twardus. "The message that I wanted to share through 'The Fabricated Wild,' is that by calling upon our ways of viewing the natural landscape, we can create a relationship between the natural environment that is fruitful and considers our place within it."
This film frames the complex interaction between a frustrated filmmaker and the collective unconsciousness of the natural environment, a theory outlined by Carl Jung, considering the implications and discoveries along the way.
"I originally set out to find an untouched landscape that I could document through an observational perspective as I was always interested in going off-the-beaten path of trails," said Twardus. "But as I completed my research, I discovered that all landscapes are influenced in some way by humanity. This exchange between the natural environment and humanity was the forming principle of my work and fostered a new appreciation for the landscape."
In total, artists from 71 countries have submitted films to take part in the Dobra International Experimental Film Festival. From the submitted works, 44 films were selected, which were divided into 8 thematic programs.
Twardus' submission of "The Fabricated Wild," was selected in the program of Ecological Sensitivities-Experimental Cinema Between Nature and Culture for this festival out of thousands of submissions.
The program was presented as a full 50-minute screening, which simulated the feeling of being in a theater viewing the program at once. You can find more information about it here.
"Some of the main concerns of the last decades are regarding ecological questions," said Lucas Murari, Dobra curator and researcher in experimental cinema and avant-garde art. "These are common problems to each and every one, that transcend the geographical and cultural-natural frontiers. The experimental cinema has shown itself as an important tool to raise awareness to these questions."
This year, the festival was co-produced by the Museum of Modern Art in Rio De Janeiro, Brazil. It was also completely virtual for the first time due to the COVID-19 global pandemic.
"Since the Dobra International Experimental Film Festival was virtual, it was great to be able to see so many screenings," said Twardus. "Usually at film festivals, it's very difficult to see all the films because many screening blocks happen at once. However, Dobra had all of their screenings available asynchronously for about a month which allowed audience members to view all of their programs on a robust website that the festival created."
Twardus' film "The Fabricated Wild," as well as another film of his – "Self-Portrait: Impermanence," – were also both selected for showings at the University Film and Video Association (UFVA) conference. Read more on that here.
Twardus graduated in 2019 with an MFA in Feature Film Production from UCF. "The Fabricated Wild," began as his thesis film.
His film "Voice-Destroy," which also began as part of his MFA thesis requirements, was just accepted to the 2020 Film and Video Poetry Symposium as well. This festival, based in Los Angeles, celebrates and screens a large scope of film and video projects developed through the medium of poetry. "Voice-Destroy" will be screening on the festival's opening night, which is November 12.
For more information on the new and improved Feature Film Production MFA, the graduate program that pioneered feature film production, click here.
Twardus' films can be found on Vimeo.
Published November 2, 2020. Written by Iulia Popescu.
If you have any news, accomplishments or highlights about your work or life, please be sure to share them with us, by emailing us at nicholsonews@ucf.edu