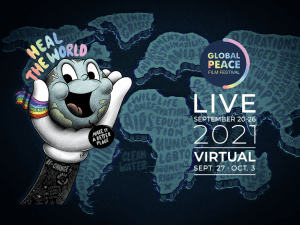 Two UCF Film documentary students have films screening at the Global Peace Film Festival, which has been showcasing various films for 19 years now.
Michelle Hung will be screening the 9-minute documentary "An ABC Reflection," while current Film MFA student Kristen Locker will be screening "The Neighborhood of Democracy."
"An ABC Reflection," is about a young American Born Chinese who explores her cultural heritage and reflects on her identity. "The Neighborhood of Democracy," focuses on a politically divided family's journey to accepting their differences within the household and the world around them.
The students' documentaries were among the final films produced in the Doc Production class last year of Professor and Assistant Director of the Nicholson School's Film and Mass Media program, Lisa Mills, Ph.D.
Mills will have her own documentary "Son of a Sweeper," playing at the festival as well on Wednesday, September 22 at 4:30 PM.
The 30-minute film "Son of a Sweeper," focuses on efforts to enhance education for the children of India's sweeper communities.
This year, films will be presented in person from September 21 through September 26. Then, the program will be streamed virtually from September 27 through October 3.
View the in-person schedule and film descriptions here. View the streaming program here.
Due to the spread of the Delta variant of COVID-19, most screenings will be presented only at the Winter Park Public Library with limited capacity. The opening night film gala will be held at Enzian Theater, and there will be select additional screenings in other locations.
They will hold a small number of tickets aside for walk-ups at each screening, but purchase tickets early to guarantee entrance.
There are a variety of passes available for both the in-person program and the streamed virtual program, which can be found on their website.
Published September 1, 2021. Written by Iulia Popescu.
If you have any news, accomplishments or highlights about your work or life, please be sure to share them with us, by emailing us at nicholsonews@ucf.edu.