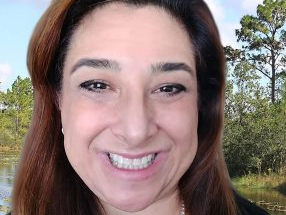 Assistant Professor Maria C.R. Harrington, Ph.D., recently presented at The Central Florida Chapter of the Global Association for Virtual Reality (VR) and Augmented Reality (AR). Her topic of interest – making knowledge beautiful.
The event which occurred in February was organized by John A. Cunningham, who is the Head of Government Solutions at Unity Technologies, with the event theme being Leading Edge XR Research, Development and Education featuring UCF and LearnXR.
Harrington's presentation revolved around her work using AR and VR to create knowledge through visualization. She's been investigating field trips in nature, arboretums and museums.
Typically, people rely on a guide to give them more information, and artifacts or dioramas are not dynamic and interactive. However, Harrington's work focuses on how to design AR and VR to enhance immersive informal learning experiences.
Previously, Harrington created the AR Perpetual Garden App, which generates an AR environment that allows visitors to produce virtual gardens.
Harrington also established the Virtual UCF Arboretum, which allows users to virtually hike through UCF's actual arboretum. This affords the user the opportunity to experience a variety of flora year-round, through high fidelity and realistic 3-D models, which are crafted by botanists and artists.
Her projects' websites have amassed 55,720 views and her applications have accumulated 30,031 downloads on the App Store.
Through her research, she has discovered that information fidelity, or the truth value of the visualization, is important in communicating the knowledge of the artifact, as well as the salience, or excitability, of what the individual sees.
She shared this information during the virtual online presentation to an audience that included more than 50,000 Unity developers among others – even members of the U.S. Navy were in attendance.
"Events like this are very important to transfer knowledge from research inside UCF to the community for increased understanding of the conceptual structures of immersive tools, technologies and applications, so people can make the best decisions, create the best products and solve problems with efficiency and elegance," said Harrington.
Harrington is an assistant professor of digital media at the Nicholson School of Communication and Media and director of The Harrington Lab.
She studied economics and art at Carnegie Mellon University, and received her doctorate in information science from the University of Pittsburgh in 2008.
She's earned multiple awards and was recently awarded a $25,000 grant from Epic Grants, the company responsible for the online video game Fortnite, to help expand the Virtual UCF Arboretum. Harrington is a research associate with the Carnegie Museum of Natural History, Powdermill Nature Reserve, as previously reported on here.
Find Harrington's publications on Google Scholar, and download her creative works from her research website, The Harrington Lab at UCF. 
Published April 1, 2021. Written by Iulia Popescu.
If you have any news, accomplishments or highlights about your work or life, please be sure to share them with us, by emailing us at nicholsonews@ucf.edu.