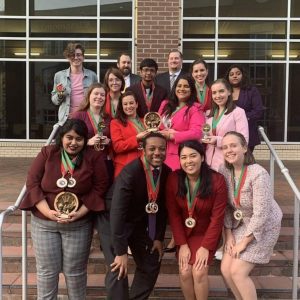 The Nicholson School's Speech and Debate Team is soaring to new heights with the announcement of a future scholarship on the horizon.
The students on the team are led by Associate Instructor and Director of Speech Jonathan Conway, and the new Director of Debate, Matthew Maddex, who is also a Nicholson School Lecturer. They have both competed heavily in Forensics, or competitive speech and debate, themselves.
"Forensics as a word comes from 'to seek the truth,'" said Conway.
The Greeks identified three kinds of speaking: deliberative, epideictic and forensic. According to Aristotle, forensic speaking occurs when two sides are in opposition and a judge or jury has to make the decision about what is or is not true.
In Ancient Greece, citizens would provide evidence to support their positions and make arguments with it. When intercollegiate debate began in America, the opposing sides presented their arguments, and a judge would decide which team had the better arguments. The early debaters from Harvard and Yale took the forensic label from the Ancient Greeks to give credibility to their new intercollegiate activity and called it Forensics.
Conway joined the faculty of the Nicholson School as the Director of Speech in 2014 while Maddex is a newer addition to the school, having started in August 2021. They are looking forward to growing the team into a national force.
"Since I've started my journey, my academic world has always revolved around Forensics, and I've always had a desire to help others find their voice," said Maddex.
At the University of Central Florida, speech and debate members are part of one comprehensive team. Until 2019, they were two separate teams when they decided to join forces and grow together.
On the speech side, participants select individual events – much like a track team – and prepare materials for competitions. Some select limited preparation events and have a short amount of time to identify a topic and prepare a speech. Other team members select events where they construct speeches in advance and memorize speeches.
On the debate side, tournaments tend to include preliminary rounds where opponents are scheduled to meet other teams in head-to-head competition. Teams with the best records advance to the elimination rounds in an elimination bracket, which then leads to the championship.
Conway explained his coaching pedagogy, which includes boosting mindsets and morale through a unified vision – learning objectives he gained while completing his master's degree in communication studies.
"Our goal for speech and debate is to build student advocates," said Conway. "And one of the things we do is teach them how to be leaders."
Maddex also has similar coaching strategies. They have implemented new techniques that have completely revolutionized the way they run the Speech and Debate Team.
"The best teams are the ones that feel like a family," said Maddex. "They support each other and are always there to listen or offer feedback. And I often ask my students: 'Are we paying attention to the current news? Who are you advocating for?'"
The group has traveled to rigorous tournaments across the United States – from sunny California to competitive Alabama. Last year, there were only online tournaments due to COVID safety restrictions, but the team is looking forward to traveling to intercollegiate tournaments again.
Their successful season last year culminated in several individual speaking awards and a national championship in debate. At the last Pi Kappa Delta (PKD) Comprehensive Tournament, the UCF Team placed seventh in debate, 13th in IE and 12th overall. Anna Jurlina was the national champion in Varsity International Parliamentary Debate Association debate. Mekaelia Morgan was the nations' top speaker in novice IPDA debate.
UCF will also host the upcoming 2022 National PKD Biennial Convention and Tournament, the oldest comprehensive national tournament with speech and debate, during spring break next March 9-12.
Robert Littlefield, Ph.D., Nicholson School Director as well as former Director of Forensics at North Dakota State University, has a history with speech and debate. He was recently inducted into the National High School Hall of Fame.
Robert Littlefield and his wife, Kathy Littlefield, are providing funds to support two scholarships – one for speech and one for debate – in the school. The Littlefield Speech and Debate Scholarship will be awarded in Spring 2022 to deserving students.
As this semester's recruitment comes to an end, join us in welcoming the new recruits and wishing the Speech and Debate Team the best of luck in upcoming tournaments!
Published October 1, 2021. Written by Iulia Popescu.
If you have any news, accomplishments or highlights about your work or life, please be sure to share them with us, by emailing us at nicholsonews@ucf.edu.