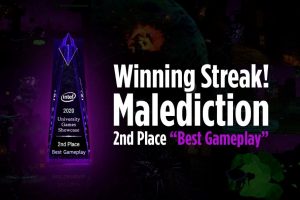 The Florida Interactive Entertainment Academy (FIEA) has dominated at the Intel University Games Showcase, and this year is no exception.
FIEA game "Malediction," which was created by the Desert Beagle student team, won second place in the "Best Gameplay" category at the 2020 showcase, held online on March 30.
"Malediction" is a third-person game that gives players a chance to play as Morgan, an impulsive yet curious wizard, who does not have the best luck. His experiments often get him into trouble and this time, a cloning spell has backfired causing his duplicates to run off with most of his magic.
The goal of the game is to chase Morgan's clones through three enchanted levels of a warped, Renaissance-inspired city. Morgan can manipulate the environment with telekinesis and localized time stop/reversal powers to overcome obstacles produced by the dastardly clones.
The project took a year to complete – more than 7000 work hours – but the experience was a gratifying one.
"The most rewarding thing is when you see all of your efforts come together to create something you can be proud of," said Jaime Tous, co-leader of the production. "Not just because you created a game, but because of who you worked with. By the end of it, you really end up getting to know everybody and developing a bond with them as you go through the highs and lows as a team."
On December 31, 2019, Desert Beagle launched on Steam to generally positive reviews.
"As of our launch in late December," Tous said, "about 40,000 people own Malediction on Steam."
This is the fourth straight year that a game from FIEA has won a top three award in one of the following categories: "Most Innovative," "Best Gameplay" and "Best Visual Quality."
Check out the 2019 FIEA student game "Long Arm of the Law," which won two second-place awards last year, amassing in $10,000 worth of donated equipment to FIEA.
UCF's graduate game design program is No.1 in North America, according to The Princeton Review and PC Gamer magazine in 2020.
For the second time in the past five years, UCF's interactive entertainment graduate program at FIEA has taken the top spot. FIEA, now celebrating 15 years, has more than 700 graduates working at 230+ entities around the globe.
"Our students are primed and ready to work well before they leave our labs and classrooms," said Ben Noel, FIEA's executive director. "We teach the most advanced game-design skills, but we also provide the skills employers want in terms of problem solving, teamwork and project management."
For more information about the Nicholson School's FIEA and its programs, visit their website.
"Malediction" was produced under faculty advisor, Tom Carbone, Ph.D. and created by the Desert Beagle student team, which consisted of 28 FIEA students.
Jaime Tous and Luis Pino led the production.
The design team was comprised of Aaron Cendan, Steve Diezel, Carol Eastwood, Farina Khandadia, Alberto Huffman-Negron, Ryan Rusian and Sound Wright.
Michael Carter, Utsab Das, Dakota Dolde, Michael Fisher, John-Thomas Lascha, Junxiong Yang, Yixiang Xu and Jacob Zuch made up the engineering team.
Michael Carter, Utsab Das, Dakota Dolde, Michael Fisher, John-Thomas Lascha, Junxiong Yang, Yixiang Xu and Jacob Zuch were the artists.
Published June 1, 2020. Written by Iulia Popescu.
If you have any news, accomplishments or highlights about your work or life, please be sure to share them with us, by emailing us at nicholsonews@ucf.edu.