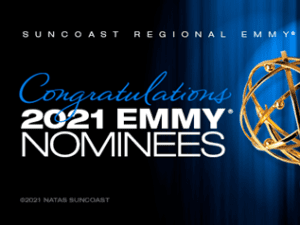 The National Academy of Television Arts and Sciences Suncoast Chapter honored WUCF TV, Central Florida's PBS station, with four Suncoast Regional Emmy® nominations.
The awards ceremony will be held virtually December 11, 2021.
"These nominations show the diverse and collaborative nature of content WUCF produces locally with the University of Central Florida," said Jennifer Cook, WUCF interim executive director. "As Central Florida's Storytellers, we want to share stories that appeal to and educate everyone in our community. Being recognized for doing that is an honor. This is content that is showing to have a positive impact on the lives of families here in Central Florida and that is the core of what we do as a community-focused public media station."
The NSCM-affiliated nominations include:
WUCF's Meet the Helpers initiative videos include a mental health counselor, a youth helper and a scientist who discusses the importance of vaccines. Previous videos in this series include firefighters, police officers, teachers, doctors, paramedics, meteorologists and 9-1-1 operators. The videos were developed in partnership with the University of Central Florida's College of Community Innovation and Education and Nicholson School of Communication and Media. This project, and the research around it, included involvement from Senior Lecturer and Academic Program Coordinator Judith Levin, Ed.D as well as input from Professor and Interim Associate Director of Graduate Studies, Research and Creative Activity Timothy Sellnow, Ph.D. and Professor and Assistant Director of the Communication Programs Area Deanna Sellnow, Ph.D, who helped WUCF craft the messages.
GRR-IFIC Neighbors, where viewers celebrated what it means to be a caring neighbor with music from the Orisirisi drummers, story time and at-home activities. Don Harrell, adjunct in UCF's Africana Studies program, started Orisirisi (pronounced O-re-she-re-she) African Folklore with his wife. The performing arts and arts education company uses folktales, legends, myths, music, dance, children's games, and other African-rooted folklore to teach, entertain, and illuminate the beauty and poignancy of African life and culture.
The special edition of NewsNight Conversations focused on mental health and the wide range of people who are struggling during the COVID-19 pandemic. A team of experts and journalists examined how the events of the past year have affected individuals and the community. During the special, Deborah Beidel, Ph.D., Trustee Chair and Pegasus Professor of Psychology and Medical Education at UCF and the Executive Director of UCF RESTORES, spoke with NewsNight about how specific hardships connected to the pandemic, such as unemployment and health concerns, can present trauma-like mental health issues akin to PTSD. NSCM students have played a part in helping UCF RESTORES as well.
Marching Forward, a one-hour documentary produced by students and faculty of the University of Central Florida, tells the story of two dedicated high school band directors – one black, one white – who were inspired by music to cross the color lines of segregation and work together for the sake of their students. This courageous cooperation resulted in the experience of a lifetime for both black and white students traveling from the Deep South to the 1964 New York World's Fair. The film was co-directed by Associate Professor Lisa Mills, Ph.D; Associate Professor Robert Cassanello, Ph.D and UCF student Oswmer Louis, a history major and cinema studies minor. Students in UCF's Animation MFA Program were also involved under the direction of Associate Professor Cheryl Briggs, producing vignettes to illustrate some of the film's most dramatic moments. About 25 UCF students from a variety of disciplines contributed to the production doing everything from conducting research to operating cameras. Initial support for the film was provided by Dean Sheila Amin Gutierrez de Pineres of the UCF Burnett Honors college and Dean Jeff Moore of the UCF College of Arts and Humanities. Funding was also provided by UCF's Nicholson School of Communication and Media and College of Sciences.
Originally written for WUCF by Andrea Dennis. Published to Nicholson News by Iulia Popescu on December 1, 2021.
If you have any news, accomplishments or highlights about your work or life, please be sure to share them with us, by emailing us at nicholsonews@ucf.edu.