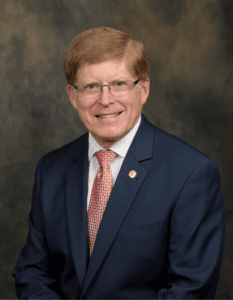 During the past five years, the Nicholson School of Communication and Media (NSCM) underwent a number of what are typically once-in-a-generation changes, under the guidance and leadership of Director Robert Littlefield, Ph.D.
As of August 8, 2021, he has accepted a second term.
Upon his arrival in 2016, Littlefield successfully guided the development, approval and subsequent implementation of the Ph.D. in Strategic Communication in 2018.
Littlefield also was appointed as inaugural director when UCF's first and only intercollege school was created in 2018 and helped with the transition of the intercollege school fully back into the College of Sciences. Among these organizational changes, in 2019, Littlefield provided leadership when two thirds of the Nicholson School's faculty and staff moved from the main campus to UCF Downtown.
One of the outcomes of the move to UCF Downtown has been programmatic and faculty cooperation between the Games and Interactive Media program and the Florida Interactive Entertainment Academy (FIEA). These programs have been highly successful and are ranked at or near the top by the Princeton Review, the most significant ranking organization for such programs.
Littlefield has expanded international exchange opportunities in Asia and Latin America, as well as increased opportunities for intercollege competition in both Individual Events and Debate teams.
Through his efforts, NSCM has secured the bid to host the 2022 Pi Kappa Delta National Convention and Tournament, bringing nearly 1,000 collegiate speech and debate contestants, coaches and judges to UCF Main Campus during spring break.
In his first term, Director Littlefield has led a concerted effort to strengthen the quality and reputation of faculty scholarship, research, creative activity and innovation. This has included securing philanthropic funding to create the Transparency Project, leading to securing NSCM's first postdoctoral scholar.
Littlefield continues to participate in international opportunities through academic and professional service. Under his leadership, NSCM has maintained hosting the annual International Crisis and Risk Communication Conference, supported the annual publication of the ICRCC Proceedings and sponsored the semi-annual Journal of International Crisis and Risk Communication Research.
"Thank you for your vote of confidence in me," said Littlefield. "I pledge that I will continue to strive to make NSCM a place where faculty, staff and students can thrive. As we return to our new normal this fall, I will do my best to support faculty and staff as they seek ways to improve the quality of instruction, contribute to scholarly and creative outlets, and provide institutional and professional service."
In addition to his leadership responsibilities, Littlefield has taught several undergraduate and graduate courses as well as one course in the new Ph.D. program. He has continued to maintain his personal research agenda, publishing two books, five refereed scholarly articles and two book chapters, along with several refereed conference papers and presentations.
Littlefield was recognized nationally during his term with the Jack Kay Award for Community Engagement and Applied Communication Scholarship from the Central States Communication Association, and as an Inductee into the 2021 National High School Hall of Fame sponsored by the National Federation of High School Activities Associations.
12 honorees were all inducted July 1 at the induction ceremony of the National High School Hall of Fame, which was held at the NFHS Summer Meeting in Orlando, Florida. Littlefield was recognized as one of the top speech and debate educators in North Dakota and nationally for more than 45 years. Read more about his work in North Dakota here.
Please join us in congratulating Littlefield, and in wishing him the best for the upcoming years as director of the Nicholson School.
This article was based off of this NFHS article as well as an announcement from Tosha Dupras. Published to Nicholson News on August 2, 2021. Edited by Iulia Popescu.
If you have any news, accomplishments or highlights about your work or life, please be sure to share them with us, by emailing us at nicholsonews@ucf.edu.