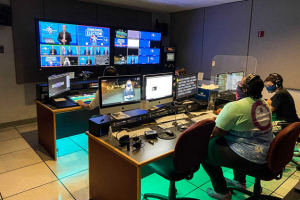 A partnership with the Orlando Sentinel allowed students to develop hands-on skills while reporting and writing from the Nicholson School and the field on Election Day 2020.
Sixteen journalism students and 20 radio-television students recently experienced the election rite of passage through a partnership with the Orlando Sentinel on November 3.
"UCF's student journalists played a critical role in the Orlando Sentinel's 2020 Election Day coverage," said Julie Anderson '84 '89MA, Orlando Sentinel's editor-in-chief. "Their reporting from precincts all over our region about voters' perspectives gave flavor to the results that were coming in on Election Day. They also applied their social media and broadcasting skills to help us inform readers about the results coming in."
Operating out of the Nicholson School's newsroom and television facilities on UCF's main campus, the partnership budded.
"I learned so much from simply being out on the field and watching how an election is covered. I think this type of learning skyrockets student journalists' abilities and education," said Natalia Jaramillo, a journalism major who reported from the Orange County Supervisor of Elections Office.
Knightly students Hector Garcia de Leon and Kai Rodriguez worked with El Sentinel – and with Katie Coronado on Spanish language content throughout the day. Some of the multimedia stories they worked on can be found here and here.
Editor-in-Chief for NSM Today and Orlando Sentinel intern Catherine Matos was also at the event.
"For the election event, I ran the NSM Today side of things," said Matos. "I started planning out election coverage a month in advance with our news editor, Samantha Neely."
After working on articles for NSM Today, Matos went home and then returned with most of the full staff around 6 p.m. to the newsroom where they worked alongside the Orlando Sentinel.
"Having the Sentinel there created a great newsroom environment that pushed us to keep working hard," said Matos. "I edited and published the election results stories as they came in from our reporters that night. I am so proud of the work our editors did in that newsroom in our little corner, working side-by-side with the Orlando Sentinel. It was a true team effort, and really showed the level of talent we have here at Nicholson."
UCF students voted in record-breaking numbers at Live Oak Center, a story that was covered in NSM Today. The precinct saw 105% voter turnout this election with a total of 147 students voting by 6 p.m. on Election Day and around 10,000 students having already voted early at the center over the course of the week prior.
Together, students and faculty may have built the foundation for more cooperative efforts between the Orlando Sentinel and the UCF journalism program.
"This was a rather large undertaking; one that took a substantial amount of work from our colleagues in the film and mass media programs," said NSCM's senior associate director, Boyd Lindsley, Ed.D. "Working with leadership from the Sentinel, associate professor Will Kinnally, Ph.D., and instructor Jeff Kunerth, were the leads on organizing this effort. They did it excellently and they did during a pandemic, no less! They made sure everyone was following safety protocols, in addition to pulling off this endeavor. It was a great opportunity for our students and I look forward to more partnerships with Sentinel moving forward."
Although the election is over, a democracy that serves the best interests of its citizens requires active participation all year, every year.
Michelle Dusseau, Ph.D., NSCM human communication associate instructor who teaches Social Innovation and Activism, also shared some insight on how to make a difference in the long run in activism work, in a recent article here.
"Voting is an important and powerful use of your voice, but it is one piece in a much larger puzzle," Dusseau said.
Originally written in UCF Today.
Published December 1, 2020 for Nicholson News by Iulia Popescu.
If you have any news, accomplishments or highlights about your work or life, please be sure to share them with us, by emailing us at nicholsonews@ucf.edu.