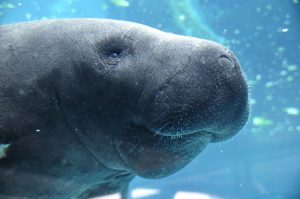 Manatee populations decreasing in Florida and sustainability reporters running rampant – these are among the stories of the latest National Public Radio (NPR) News NextGenerationRadio Florida Newsroom Project.
"Impact of Climate Change on Life" is a set of audio and digital stories highlighting the experiences of people whose lives are being affected by climate change. As part of NextGenRadio's project, students were asked to create a multimedia package on the topic of climate change.
Two Nicholson School journalism students, Allegra Montesano and Shivani Persaud, were selected to be part of the six-student Florida project.
The prestigious training and reporting project took place Jan. 2-7, the week before school resumed for spring, when students kicked it in to high gear to finalize their stories before the semester began again. Lasting about a week, the students were on a tight schedule to find their centerpieces and produce their stories.
Growing up in Florida, undergraduate student Montesano felt attuned to many environmental issues, as these topics started gaining traction when she was much younger.
"I started thinking about the effects of climate change on our planet when I was a child," said Montesano. "We learned a lot about how climate change was affecting the Everglades in elementary school, and it made me sad to know that our home, this unique environment with fantastic creatures, was hurting. It still is."
Working with Mark Schreiner, the assistant news director and intern coordinator at WUSF-FM, the NPR affiliate in Tampa, Montesano learned a myriad of skills from this experience with NextGenRadio, such as complex audio editing, web story formatting and how to ask better interview questions. Her story focuses on WUSF Public Media sustainability reporter Jessica Meszaros.
Montesano is currently interning with WMFE 90.7, Central Florida's NPR affiliate radio station. She is the president of UCF'S Radio Television Digital News Association (RTDNA) chapter and is also a member of the Society of Professional Journalists (SPJ), the National Association of Hispanic Journalists (NAHJ), Her Campus UCF, the Tau Sigma National Honor Society and the Association of Independents in Radio, on top of being a Dean's List student.
For graduate student Shivani Persaud, her story brought her face to face with sleek gray manatees nosing around Blue Spring State Park in Volusia County.
Persaud knew that to find a subject for her story, she would have to go out into the scene. Having just moved to Florida from New York to attend UCF, she pondered on who her subject could be. Her search led her to the refreshing waters of the Blue Spring run in Orange City, Florida, where she would be introduced to Central Florida environmentalist Cora Berchem, who is on a manatee mission.
According to Florida Fish and Wildlife Conservation Commission data, Florida saw the highest manatee mortality rate in 2021, with 1,101 manatees dying through Dec. 31. Persaud's story focuses on the death of so many manatees in Florida due to climate change – and the people such as Berchem who are on the frontlines fighting to turn this around.
Persaud, who graduated in December with a bachelor's degree in journalism from the Nicholson School, is currently interning for NASA. It's a pivotal time when the Artemis mission, where NASA will land the first woman and first person of color on the moon, is preparing to occur. In her spare time, she teaches students how to play the sitar, a stringed instrument of the lute family.
Persaud's mentor for the NextGenRadio program was Senior Instructor Rick Brunson, who she already considered a mentor before the program began. It was Brunson's third year representing UCF as a mentor/producer.
"NextGenRadio is NPR's flagship training program,'' Brunson said. "It's where the next generation of public media professionals are identified, coached and connected with a community of mentors and pros who can help them rise. The fact that two of the six students selected for this year's NextGenRadio Florida project were from our journalism program at the Nicholson School speaks volumes about the quality of our students. I'm extremely proud of both of these young journalists.''
In 2019, journalism students Lillian Hernández Caraballo, Monica Sealey and Nelly Ontiveros were selected as NextGenRadio trainees as well. Readers can find more about that here. Journalism student Héctor García De León also participated in 2021.
Check out the link to the finished 2022 project here.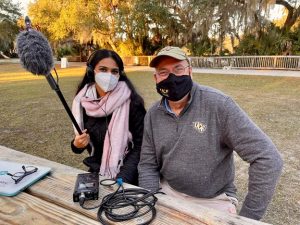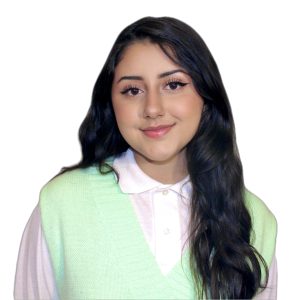 Published March 1, 2022. Written by Iulia Popescu.
If you have any news, accomplishments or highlights about your work or life, please be sure to share them with us, by emailing us at nicholsonews@ucf.edu.