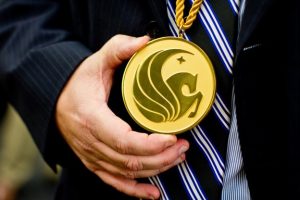 The Nicholson School congratulates the 2022 College of Sciences Founders' Day award recipients. Several award winners came from NSCM.
In the Nicholson School, winners of The Excellence in Undergraduate Teaching Award (college awardees) include:
Christine Hanlon, Ph.D., Senior Lecturer in the Communication Program
Michael Strawser, Ph.D., Assistant Professor and Deputy Assistant Director for Curriculum and Assessment
The Excellence in Undergraduate Teaching University Award (university award) is bestowed to one winner after the Undergraduate Teaching and Advising Awards Committee reviews each of the portfolios submitted by the colleges. Then, the committee selects one person to receive this award for outstanding teaching at the undergraduate level. And the award goes to:
The 20 Year Service Award was given to these deserving NSCM faculty members:
Finally, the Pegasus Professor award is the university's highest faculty honor. Professors who receive this distinction have well-established careers at UCF and beyond, with national and international recognition for their impact on their area of expertise. There were two winners this year, and one was from the Nicholson School:
Timothy Sellnow, Ph.D., Professor in the Communication Program and Associate Director of Graduate Studies, Research and Creative Activity
Published May 2, 2022. Written by Iulia Popescu.
If you have any news, accomplishments or highlights about your work or life, please be sure to share them with us, by emailing us at nicholsonews@ucf.edu.